The Secret Life of the American Teenager Review: I Want You To Want Me
Leigh Raines at .
On last week's spring premiere of The Secret Life of the American Teenager, it seemed pretty evident to most viewers that Amy wasn't all that happy in her life or her relationship.
In "It's a Miracle" we got to see into the mind of the other half of our main couple: Ricky.
Unfortunately, it doesn't seem like Ricky is too eager to walk down the aisle with Amy either. At this point, I'm not sure if it's a good thing or a bad thing that their secret about not really being married is starting to leak out...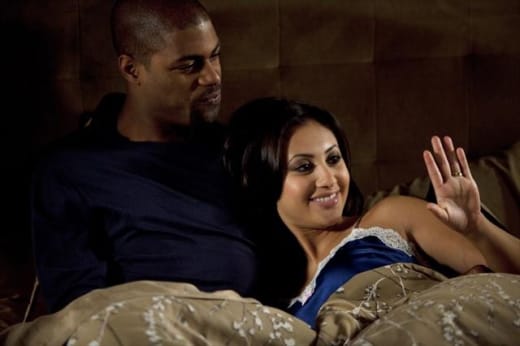 It took Ricky and Amy a long time to get to where they are now and while things seemed better for the couple on this week's episode, it's always a roller coaster. Amy usually seems confused and unhappy and Ricky just seems frustrated. Ricky's therapy session with Dr. Fields was probably my favorite aspect of tonight. I felt like it gave us a really strong insight into where Ricky's head is at. Also, as someone who has been watching this show since it began and reviewing it for almost as long, I saw a lot of growth in Daren Kagasoff's acting. I felt kinda proud!
Everything Ricky said was also pretty damn legit. He does love her but he's tired of arguing with her. It took him a long time to know he was in love with her and those feelings are definitely there but he doesn't feel like it's truly reciprocated. He wants to be wanted, and isn't that just part of human nature? Why would you marry someone if you weren't sure they even wanted you? Hell, why would you even be in any committed relationship with someone who you weren't sure really wanted and loved you? 
Ricky went so far as to start comparing his old relationship with Adrian. While I don't think that Ricky and Adrian are endgame (I love her and Omar) I do understand how easy it can be to compare people to your first love. Your first love is usually a benchmark that you hold all other relationships to whether good or bad. Ricky went on to say that he hadn't cheated, and he wasn't even thinking of Adrian, but he definitely did think about it.
Clementine anyone?
As for Adrian, I feel like she's finally getting her happily ever after with Omar. He seems to get her and vice versa. They understand each other's hopes and dreams and want to build a life and future together. What feels healthy about their relationship is that they're not rushing to do it all now. They want to have a long engagement and have kids after they are both graduated and settled into their careers.
Sometimes it's hard to remember just how darn young the kids on this show are! They are so eager to drop the L-bomb and make bold statements and declarations. Ethan flew to Texas with Kathy to convince her parents to let her return to California. I'm not going to lie, I thought her dad was a major d-bag. Your daughter paid her dues she doesn't need to walk around with her head hung low and feeling guilty. She started to build a life for herself at her grandmother's in California and if that was solely based around a guy I'd say she shouldn't have returned.
But she has friends and school and some sense of normalcy after being a pregnant 15-year old and that is an important need.
When I first met her I thought she needed me because she didn't have him, but she didn't need either of us. | permalink
That was a mature statement by Ethan and I was pretty impressed. He didn't realized he loved Kathy until after she gave birth and he knew loved her just for her, not out of some weird sympathy pain. It was a wake up call to Ben, who has put Amy on this impossibly high pedestal for years. Dare I say Ben might be headed in the right direction finally? I know Lucy Camden or whatever her name is on this show wants him to get counseling - but I think he might be thinking clearly for the first time in a long time.
Jack, on the other hand, should definitely seek some therapy after the ordeal he went through. It's great he thinks he has a higher calling for his future, but he should probably deal with healing in the present. George should lawyer up if he wants to retain any rights to Robbie. That's pretty much it for this week's Secret Life. What did you think of the episode?