After a brief break, Two and a Half Men returned tonight with an all-too familiar storyline.
Over the 10 seasons that Alan has resided in the beach house, he has been called a leech and a house guest who has severely over-stayed his welcome - and Alan agrees with this classification. Hell, he even embraces it.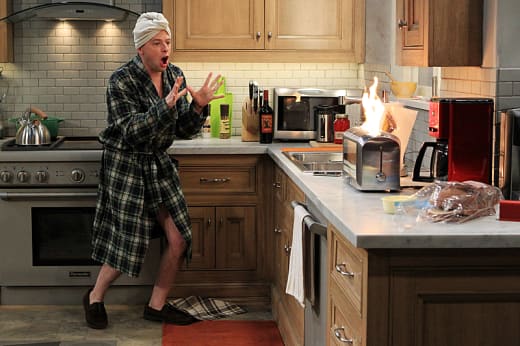 However, one thing that is not taken into account is how much his absence affects the owner of the house, be it his dead brother or new home owner, Walden. Over the course of him living in the residence, he has become a stable fixture, someone you can't stand, but at the same time can't live without.
In Walden's case, Alan has been there all the way through. He even stopped him for running into the ocean when Bridget left him. Through the revolving door that is Walden's life, many people have walked through, but there has been one constant: Alan.
Only married couples fight over something as trivial as a toaster, which just goes to show how close those two have become over time.  I did not expect Alan to leave; he always threatens, but those threats come up empty. I wasn't alone in thinking that, either, as even his son did not believe it. Berta, however, was so happy that she began to cry.
Between Herb and Walden, it's pretty evident that they are both lonely and desperate, that they could be fighting for Alan's companionship.
Overall, "The 9.04 From Pemberton" was a pretty funny episode, yet one with a very familiar storyline that could have only ended one way: Alan going back to the beach house.
What did you think of this latest installment? Hit the comments, and as usual, do not forget to check out the Two and a Half Men quotes section for some of tonight's funniest lines.