Well, that was fun.
"Big Episode. Someone Stole a Spoon" ranks highly on our list of the best Two and a Half Men Season 10 episodes, if only for the Charlie Sheen dig.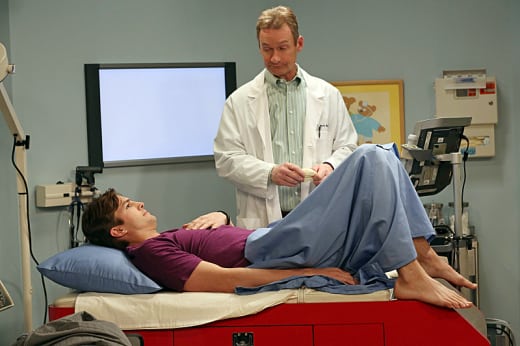 Herb might look like docile, but, man, does he party like a rock star. While trying to get his mind off Judith, he went to the dark side and subsequently went off the rails for two days.

Last week, Herb went down the creepy route. Here, he went crazy... and the sheep got the worst of it.
Alan, Herb and Walden are all man-babies if you look closely. All three either have/had domineering mothers or ex/ wives. So that little bender was just a way of yanking off the leash.
It's often said that it all fun and games until someone gets hurt  both Walden and Alan felt the brunt of heavy partying in this case. However, Herb was not willing to give up living in that fantasy. He didn't want to face fact that Judith left him. So he decided to keep going with Kristen (who sells Plaxtril) and when that was not enough, he chose to commandeer a sheep. Yes, it was bad.
Alan and Walden have been in such a familiar position and therefore stepped in before the situation got worse and Herb began living with a farm animal by calling his wife, who quickly snapped him back to his senses.
Things have finally returned to their natural status. Herb is back with Judith, Walden and Alan are still living as roommates and there's no doubt they will grow old together.