I admit I was a bit underwhelmed with "Unfinished Business" as it unfolded.
Most likely because it held a lot of, well, unfinished business. Water over which we've already rowed. We knew the stories, aired the differences and fought the fights. Until I got my A-HA moment.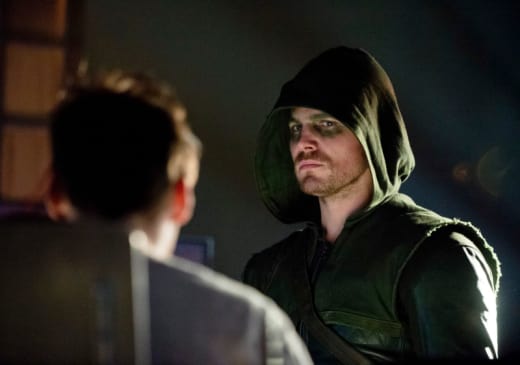 It as another wasted moment for poor Seth Gabel as The Count. He was more like the Sesame Street character than any super villain, and they didn't even try to fool us into thinking otherwise for more than about thirty seconds. Even our dandy Detective Lance decided Tommy Merlyn had more of a criminal mind than the Count.
Yes, we were back to the crap with Det. Lance hunting down any male who's nether regions has come within a city block of his daughter in the hope of locking him away for good. Damn, that is one old story. Old as dust. How Laurel can continue to forgive him over and over and over proves just how little family she has left and how few friends she can turn to. Things are about to get worse for her methinks.
So what did I like about tonight's episode? I'm just going to jump right into bullet points:
I was with Oliver as far as playing patty-cake with the bowl of water. Who's with me now, slamming their hands into a big salad bowl of water? Whether it's to break a table in half or draw a bow, if it takes a while of slapping away, I have the time. That was a pretty cool story. Finally one I could get behind and really enjoy the trip and the means to the end. Shado won my heart.
It was interesting to learn Tommy didn't trust Oliver, especially since he's essentially a bad guy, taking bribes for the good of the club. Was he next to get shot? Still, he managed (with whose help I'd like to know) to completely cover up their lair before Quentin got there. Pretty awesome.
Diggle and Carly have grown a lot closer and it's been killing him that Deadshot is out there, always a threat. My heart broke for him when he told Oliver he thought he would the one person to understand his need to take on his personal vendetta, but was let down.
Felicity continues to rule the screen when she's on it. From her story about the near miss with pot brownies in college (too bad she was allergic to nuts) to noting that in times of trouble Oliver was taking time go brew some tea, she keeps me laughing, and that was missing from so many of the earlier episodes.
The looney bin doctor telling Oliver he didn't think he could get one shot off in his condition as Oliver was aiming three? Pure genius.
The biggest revelation of the night was the relationship between Oliver and Tommy. Tommy was willing to give a mile to accommodate Oliver's new lifestyle while pretty much just accepting him at his word. In return, he received from Oliver a question as to whether or not he would actually take money from the club coffers and sell Vertigo to Vendant customers. That turned out to be Oliver's biggest mistake.
It was also the mistake I have been waiting for, rubbing my hands together diabolically like a wicked little girl with the anticipation.
Tommy quit Verdant. Where did he turn? To the Dark Archer himself, Malcolm Merlyn. The time is coming for a showdown of sorts between the archers and for Tommy to be in the know about both. It's coming and I cannot wait. Tommy is going to go to the dark side. He's not going to go because he, himself, is a dark person, but because the one person he trusted the most and was willing to give the most leeway for a new life - and was the most accepting of - could not return the favor.
Oliver's doubt of Tommy just set the wheels into motion for everything to change. What are the odds that Malcolm will give to Tommy a normal job? How long will it take before he trusts Tommy enough again to show him his other persona? What in the hell will happen when it all comes together? Will that be what changes Laurel into the Black Canary? Maybe she'll be fighting her own fight against both vigilantes. Oh, the possibilities are endless.
What started out as a quasi boring episode with a been-there-done-that quality ended with a frying pan in the face feel. Now that Tommy has put his life back into his father's hands, any chance at friendship with Oliver will be a long shot. Malcolm will see to that. It's casting the Queens and the Merlyns against each other. Tommy may embrace the dark side now that he's been accused of it. Haven't you had that feeling? If you're going to accuse me of cheating on you, I might as well do it and have fun in the process!
Hit the comments, tell me what you thought about this new, potentially dangerous switchback by Tommy and what could happen with his knowledge of Oliver and his new working relationship with Malcolm. Are you as excited as I am?
Carissa Pavlica is the managing editor and a staff writer and critic for TV Fanatic. She's a member of the Critic's Choice Association, enjoys mentoring writers, conversing with cats, and passionately discussing the nuances of television and film with anyone who will listen. Follow her on Twitter and email her here at TV Fanatic.