"Disappearing Act" gave the Body of Proof team a different type of mystery to solve. Instead of proving the cause of death, they looked for signs of life.
I wondered from the beginning if Jerry Roberts had planned this all himself. Stealing $1 billion gives you a lot of options. I figured the dental implants could be faked but it was the piece of bone that stumped me. Obviously Jerry was willing to do anything to flee the country and start a new life.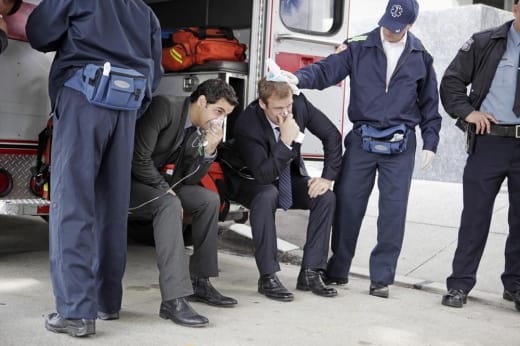 It was hard to decide which supposedly dead man was the worse of the two. Yes, Jerry robbed thousands of people of their life savings, many of whom he never even met... but Collin Olson left his wife feeling guilty for his death while he enjoyed traveling the world. Is it worse to destroy the lives of people you've never met or torture the one person you promised to love?
Did anyone else notice that the moment Megan arrived at the courthouse she went straight to Tommy. She all but ignored the body and didn't check out Adam until she was sure Tommy was okay. 
And I was relieved when Tommy ditched Officer Dunn. Adam's right, she's beautiful and she's obviously interested in Tommy but if he really wants Megan he has to earn her trust. I'm looking forward to seeing their relationship evolve throughout the rest of the season.
Joan annoyed the heck out of me when she snooped through Megan's files and then got angry that Megan was investigating her father's death. As Megan said in this Body of Proof quote…
This is what I do, I follow the evidence until I find the truth. | permalink
It's hard to tell if her husband's suicide is just a difficult time she's desperate to put behind her or if she knows more than she's saying. Either way, she doesn't understand her daughter very well. Megan needs facts to be able to process events. She won't stop her investigation until she finds solid answers.
Of course, I did agree with Tommy. One spare finger print on a piece of paper doesn't necessarily mean murder. I have no doubt Megan won't stop until she uncovers the truth and I love the fact that she and Tommy are working on it together. 
Chief Martin has gotten to be a little over the top in her tirades against Kate, Megan and even her own detectives. I'd hate to be that miserable all of the time. The character is becoming cliche and if they insist on inserting her into stories I hope they add just a a bit more depth. The only highlight was that it allowed Kate to show she still has some backbone.
One last moment worth mentioning was Ethan's annoyance with Megan. He's usually the most likely character to back down when she gets snarky but as he was stuck late at the lab his annoyance was obvious. He even tried to ditch her and threw in a serious eye roll for good measure.
So, do you think Megan will unravel the mystery of her father's death before Body of Proof season 3 ends…and will she do it with Tommy by her side?
C. Orlando is a TV Fanatic Staff Writer. Follow her on Twitter.