Dallas Post-Mortem: Stars React to Shocking Miscarriage
Jim Halterman at .
Even though last week's episode of Dallas made it look as though Pamela's twin babies were flat-lining after the trauma from the methane rig explosion, this is Dallas... so I wrongly assumed there might be a last minute reprieve and the babies would live.
What viewers will see moving forward will be the ripple effects of the losses with not only Pamela, but with Christopher, as well as the man who has been sharing her bed, Christopher's cousin, John Ross.
During a recent visit to the Southfork Ranch, I was able to talk exclusively with Gonzalo, Metcalfe and Henderson about what the loss of Pamela's babies mean for everybody in the coming episodes.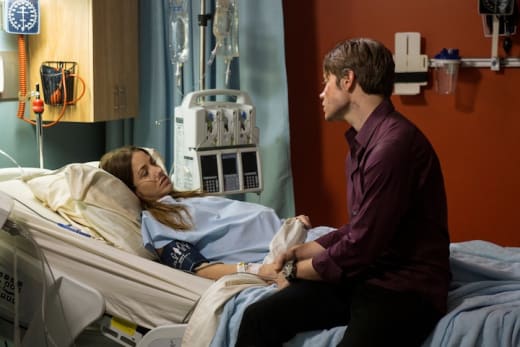 For Pamela - who may have had moments of using the babies as a way to keep herself tied to the Ewings - she definitely feels the pain when she miscarries.
"I think that she was truly excited about that, regardless of the situation with Christopher," Gonzalo explained. "It's not like she ever needed him for money or support or anything. I think that she's a very independent girl so I think she was truly looking forward to having these babies."
And while we've seen Pamela change a lot from Dallas Season 1, when she was using her middle name as a cover to get close to the Ewings, expect the dual loss to alter her yet again: "I think she's going to change," the actress said, sitting in the Southfork living room. "She has to. I don't know for the good or the bad though." However, knowing how to give a good tease, Gonazalo added, "but there is a definite twist."
Meanwhile, Christopher and Pamela have been estranged since the truth that she is really a Barnes came out, but Metcalfe said that Christopher will still be hit hard by the loss.
"Obviously it's a huge blow to both Rebecca and Christopher," the actor said in a field on the Ranch where he'd been shooting an exterior scene. "A lot of episodes 210 and 211 [are] really about how Christopher and Rebecca grieve and ultimately how through their grieving process it kind of brings them back together a bit."
Metcalfe added that it's almost impossible for Christopher to not have at least an inkling of residual feelings for his devious ex: "When you fall in love with somebody there's always a part of you that still loves them and being that she's the mother of his children, he definitely still has some feelings for her."
The star didn't fully explain how close Pamela and Christopher will become in their grief, yet Metcalfe did tease that all the drama will have an impact on his relationship with his true love, Elena: "What's going on between Christopher and Rebecca is weighing on Elena. One of the many stressors on their relationship. And also in some of the later episodes, what Drew is going through, Elena's brother, also causes a lot of tension in the relationship."
Finally, the heavily dramatic scenes of Christopher's reaction to losing his children were something Metcalfe still seemed affected by: "That was something that was a real acting challenge for me. I definitely tried to bring a lot to those scenes and really dug deep and kind of drew from some real life experience. There's some really great scenes coming up surrounding that."
Josh Henderson's John Ross is also involved in the repercussions of Pamela losing the babies since he's been sharing her bed for awhile now. While they haven't exactly fallen in love, Henderson said there's a definite connection between them: "There's a danger level of them being together and that's exciting to them too a little bit because obviously a Barnes and a Ewing, the two offspring of Cliff and JR, should never ever even look at each other much less be together.
"It's kind of a Romeo and Juliet kind of feel with them. They're both pretty savvy, so they use each other for the same reasons, but I think that they are also kind of like starting to feel for each other, which they didn't expect nor did they even want because they knew that that could come in between business. It's definitely going to be a rollercoaster from here on out."
Yes, John Ross will be there for her as Pamela grieves, as Henderson said the impact on their relationship won't be too explosive...yet: "I think that no matter what happens with the babies it's not really going to have a huge effect on the future of them because they kind of have their own plan anyways."
However, the actor managed to tease that some of those infamous Dallas plot twists are coming.
"Trust me, it gets crazy," he said with a grin. "Even I'm surprised as to where it's going."
Jim Halterman is the West Coast Editor of TV Fanatic and the owner of JimHalterman.com. Follow him on Twitter.