McKinley. New York. McKinley. New York. Back to McKinley. Tonight's episode of Glee felt like two separate shows as we bounced from place to place and navigated our way through multiple story lines. 
"Lights Out" worked, but not always well.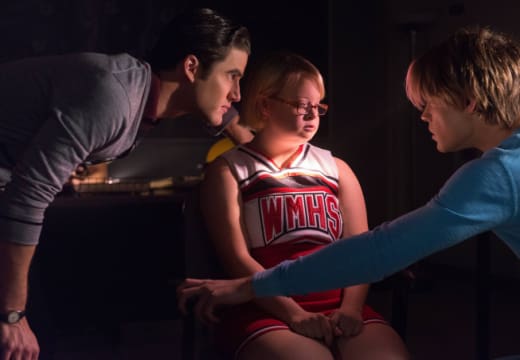 Because this felt like two separate episodes, I'm separating this out into two reviews, starting with McKinley and the things that completely confused me. Chief among these things is this little scene right up there in the picture. 
Where was it?
Blaine and Sam were supposed to interrogate Becky Jackson about what happened with the school shooting and Sue's departure. Except that didn't happen in the episode I just watched. Twice. Did it happen in the one you watched? Did they cut it so they could fit in an 8 minute production of "At The Ballet?"
Maybe it's coming next week? Or maybe Blaine at Sue's aerobics class and Becky's almost-confession is all we're going to get and Glee will be putting the school shooting story line to bed.
Another thing that confused me, or more like caused an unbelievable suspension of disbelief, was that power outage at McKinley. Had it only been a day, I would buy it. A week? No way. There's no way the power is off at a school for a week and classes are still taking place. I don't care how many mylar balloons get stuck into light sockets on accident. 
But the stretch of my imagination was worth it because that power outage gave us some incredible music. 
Sam on the guitar with "You've Lost That Lovin' Feelin'." Ryder singing one of my personal favorite songs, "Everybody Hurts." The whole gang making street music with trashcans and shovels and brooms on "We Will Rock You." 
It was all fantastic.  If nothing else, Glee is really winning with the music this season.
Ryder's revelation that he was molested made me feel like this kid can't catch a break. Dyslexia, now this, and he's being Catfished!
Aside from his song and him sharing his secret, that scene was so poorly written I'd like to shake Ryan Murphy myself. Having Sam and Artie cheer him on after he's just shared a traumatic moment from his childhood, because 11 is definitely still a child, and having no one actually explain to them why what happened to him was wrong was a slap in the face to abuse victims everywhere.
I get that their reaction might be to think that would be awesome, and I get that Tina, Will and Marley lashed out at the two of them in retaliation, but no one took the time to really explain anything to anyone. So Glee, which loves its lessons, missed out on a moment to teach.
I'm not sure how I feel about Kitty having a similar story and that being their common ground. I feel like she could've just as easily had a friend who experienced something similar or just been written to accept his story and want to be there for him without having experienced that firsthand herself. But it's pointing things in the direction of a Ryder-Kitty pairing and I'm okay with at least that much. 
The idea of Ryder and Kitty is a good one. It's not another tired triangle unless we count his Catfish who may or may not actually be Kitty. Time will tell.
Switching gears, everything about New York tonight was flawless. Even Sarah Jessica Parker. 
Kurt and Rachel trying to force Santana into making a decision about her future was so very Kurt and Rachel. And Santana basically telling the both of them to shove it was so very Santana.
Those three together are magical.
While their performance of "At The Ballet" was about 5 minutes too long, I like that it featured Santana, Kurt and Isabelle, with Rachel as backup. Going to the ballet also got Santana back in touch with her childhood and memories of her grandmother, a relationship that she lost when she came out but which meant so much to her. 
Where Santana will go from here is really anybody's guess, but I like that she got a little bit of a feature tonight. She's a character who has grown so much but still stayed so true to who she is so any night there's more Santana on my television is a good night for me.
What did you think of "Lights Out?" Were you surprised by the missing Becky/Blaine/Sam scene? What did you think of tonight's Glee music? Be sure to check out the Glee quotes page for even more Glee!
Miranda Wicker was a Staff Writer for TV Fanatic. She retired in 2017. Follow her on Twitter.