Whether it be anger, pity, sadness, excitement, joy or a long list of others, Nashville has evoked nearly every emotion from its viewers over the course of the first season. After "I Saw the Light," I was just plain... happy.
How could you not have been left with the biggest smile on your face after watching Maddie and Daphne knock the snot out of that Lumineers track during sound check?
Knowing that they were going to have these kids perform multiple times, they couldn't have done a better job choosing these two young singers. They have been fantastic each and every time they have been asked to deliver, and their rendition of "Ho Hey" might have been their best outing yet.
I understand the situation might give Rayna fits down the road, but for now, it's difficult not to just be happy after witnessing that performance. The kids' obsession with Juliette was also pretty fun to watch.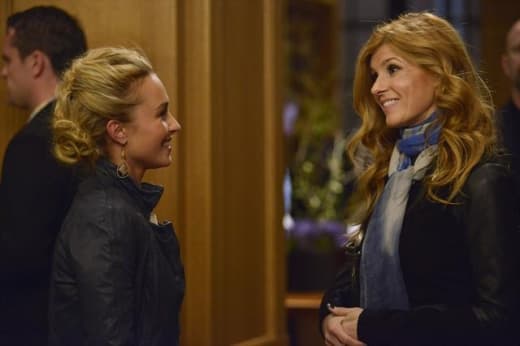 Do you know what else created that feeling of joy? Deacon continuing to make an effort to settle down with the vet. First he invites her out on the road with him, and then he decides he wants to quit the tour to spend more time with her? Either he's turned a new leaf and become super serious about her, or he's just overcompensating for his Rayna feelings.
I'm hoping it's the former, because the honesty he showed when the vet confronted him on his lie of omission regarding Rayna was some of the most sincerity I have witnessed in a while. Charles Esten is so good that even something as subtle as Deacon's inner confusion on the matter came through in spades.
The happiness grew as Juliette grew up some more this week. Sure, she stole Jolene's sober coach to help sell herself in that meeting, but the girl isn't going to change overnight.
Hearing the pop star dedicate her song on stage to her mother, and seeing Jolene's portray a combination of surprise and joy, had me smiling from ear to ear. "Thank you for being here tonight Momma." It broke my heart.
While it is completely sick and twisted, the ending made me happy as well. Who knows what Lamar's fate will be, but the chance that he died in those final moments made me as happy as a lark.
The only thing about Nashville that continues to hold it back is this plot regarding Lamar, Teddy, Coleman and Brad Paisley's wife. I tune out when they get together to chat, so Lamar dying would leave that storyline one step closer to vanishing from the show all together. Here's hoping!
I am quietly a huge Avery Barksdale...I mean Barkley...so the anticipation of him joining up with Rayna, Juliette and the gang on tour has me extremely happy. It was depressing seeing him play the role of scary weirdo playing guitar on the streets of Broadway, so even if it is as a roadie, I'm glad Avery will be joining the stars of country music for a while.
Finally, the other side of the Kids Club made me happy when Scarlett and Gunnar eventually reconciled over their need to please each other. He's not Avery, so he won't get jealous of Scarlett. Instead, Gunnar wants her to sign with Rayna. Good for them. That is some healthy living right there.
What might not be so healthy is having Chris Carmack living upstairs. Not only do I foresee him coming in between the happy couple in one way or another, but you never know when he might beat the snot out of Gunnar and blurt out, "Welcome to NashVegas, bitch!"
So with all of the happy feelings "I Saw the Light" left me with this week, I wouldn't be surprised if next was a complete downer.
But what did you all think of the hour? What were some of your favorite moments? What were your least favorite parts? And what emotion did the episode evoke out of you?
Dan Forcella is a TV Fanatic Staff Writer. Follow him on Twitter.