I feel like we all just lived through something big together, guys. Like when a group of people survive a city-wide black-out, and then they all have an unbreakable bond and have to send each other Christmas cards every year until they all die. That's us, guys.
We just witnessed history together! Your Christmas card is in the mail!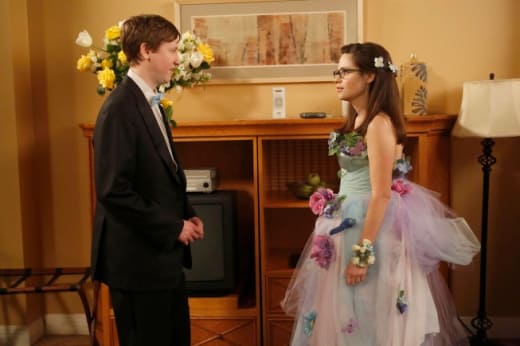 I speak, of course, of Jess and Nick's inevitable-yet-still-kinda-shocking trip to the bone zone at the end of "Virgins."
Though Nick and Jess (and their parts) have been on a collision course since the beginning of the show, I still watched the ending sequence with surprise that it was finally, really happening (especially after all the teases in the past few episodes, which led me to believe they'd be saving the big event for the finale).
I hadn't previously been as swept-up in the whole Nick and Jess thing as everyone else. I just couldn't understand why these two bozos couldn't figure out something as simple as whether they wanted to date. But "Virgins" made a strong case for why their relationship has been so wildly complicated.
Why can't these two bozos figure out something as simple as whether they want to date? Because (as we learned from the flashbacks) Jess has a horrible track record of actually picking the right romantic situations for herself, and Nick's formative sexual experiences ended with him literally in tears.
And while the rest of us have (hopefully!) moved on from the pain of our post-adolescent romantic fumblings, of course perma-teenagers like Jess and Nick wouldn't have.
Flashback episodes always feel a bit inorganic, and "Virgins" was no different - the opening set-up, with the gang each trying to top each other, felt a bit hokey. But the flashbacks themselves were very strong (I'll certainly never look at Sublime's "Caress Me Down" quite the same way again), and full of choice New Girl quotes.
So where will it go from here? With only two more episodes left in New Girl Season 2, will there be time to mess up Cece's wedding AND figure out Nick and Jess's future (I mean, be serious. There is no way Cece is getting married... though the marriage subplot is helpful in letting us learn more about Cece's inner workings, it is also just so absolutely not going to happen that it is not even funny)? What will the show do once they've made a definitive decision to date or move on? Or will they find new ways to drag the whole thing out?
I have no idea. But I certainly hope that it involves another hooker named "Mysteria."
Where do you think Nick and Jess's relationship will go from here? Was the big moment everything you hoped it would be? Is there any way that Cece is actually getting married?