Psych didn't waste any time getting back to business after that epic 100th episode... as long as that business was monkey business.
And that's definitely what went down in "Cirque Du Soul."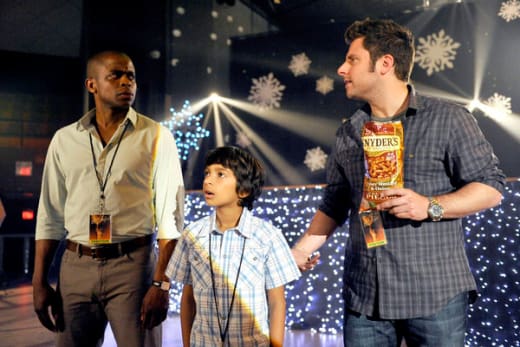 This episode was jam packed. But I really need to take minute to gush over Marlowe and Carlton, affectionately shipped as Carlowe, and how her 6-to-18-month sentence is finally up and they can finally be together in the real world as couple.
I am SO EXCITED for those two lovebirds. They are, dare I say it, almost cuter than Shules. And that's saying a lot, because I shipped those two like the Enterprise since practically day one. Carlowe had me rooting for them constantly since "This Episode Sucks." It's so satisfying to finally see these two happy.
Mad credit to Tim Omundson and Kristy Swanson for taking the Carlowe romance to heart. You can really tell they have an energy and connection that has you believing Carlton is capable of really caring about somebody even after all the pain he clearly went through over Victoria way back in season three. He's really come a long way, but it wouldn't mean anything if the actors bringing the story to the screen didn't play it so genuinely. Really, thank you for that!
If just having Carlowe back was satisfying enough, imagine how I felt when Ursula Gibbs was thrown into the mix. Whodathunkit that Carlton had a one night stand. And, furthermore, that Juliet called Ursula's crazy out and Carlton ignored it. I really wish I knew when this event took place. I have an overwhelming need to know the EXACT point at which Carlton became comfortable enough with Juliet to discuss hookups!
Even though I probably won't get that answered any time soon, I really loved how Juliet kept trying to take one for the team, or, rather, Carlton. She allowed him to stay at her and Shawn's place, then ended up matchmaking Woody and Ursula. I wonder why she doesn't start a matchmaker business on top of being a cop.
By the way, does anyone notice the continued emphasis on Juliet that has continued to emerge over the entirety of Psych Season 7? She keeps being a key player, kickass female lead, and I can't quite put my finger on what they means but I love it. Maggie Lawson, we love you. We love Juliet. And I'm talking in a "Shout it from the rooftops that Shawn loves Curt Smith" kind of way. Never forget that.
That said... CARLOWE IS ENGAGED! I saw a twinkle in his eye when he told Juliet he would think of alternative arrangements. I cannot wait to see what their ceremony is like!
But even Carlowe, Ursula and Juliet's awesomeness was only half the story. The real action was Shawn, Gus and Maximus having a big boys day out.
Yeah, about that...
I wholeheartedly agree with Henry's assessment, as I do on most things, that Shawn really is starting to act out about the possibility that someone might be as important to Gus as Shawn is. We've all been there, buddy. We know acting out is your way. It happened with Juliet when Declan came out of nowhere and we've seen it many times before. That doesn't give you the right to screw stuff up for Gus, though.
And I think Gus really stuck it to Shawn on this point, too. That line about checks Shawn's mouth can't cash was spot on. I also think it taught Shawn a lesson. This is the kind of straight talk Shawn really could have used in the past. This is also the first time I have ever even fathomed the possibility that they could suffer from a prolonged broken bromance had the situation not been resolved as quickly as it had.
We know Psych isn't one to draw out the drama, but it was that moment between the two of them in the middle of the station really stood out to me. I'm still kinda blown away by it.
Good thing is Shawn learned enough that he contacted Rachael on his own and set the record straight. It's moments like those when I know there's hope for Shawn yet. And now we know there's hope for Gus, Rachael and even Max, too!
Other highlights from the episode:
Shawn and Gus in circus costume.
Carlton unloading his weapon in a de-stress exercise.
Practically every man in Juliet's life failing to listen to her at least once during the episode.
Shawn doing a double-take when he entered the pad he shares with Juliet and found Carlowe in the kitchen.
Carlowe bubble bath.
Shawn's Icelandic accent and exterminator costume.
That contortionist in the backpack trick. Someone needs to teach me how to do that.
The long-awaited return of the Psych-Out!
Maximus admitting to Shawn that he knew Gus was the coolest person in the world.
So, Marlowe and Carlton get married next week. I am on the edge of my seat waiting for it! Heads up, we're trying to get #Carlowe and #PsychWedding trending next week on Twitter!
See you at the alter!
C. Charles is a TV Fanatic Staff Writer. Follow her on Twitter.