Revenge returns April 28 with the first of four episodes that will conclude Season 2.
The synopsis for "Identity" is intriguing in what it seems to imply. Take a look: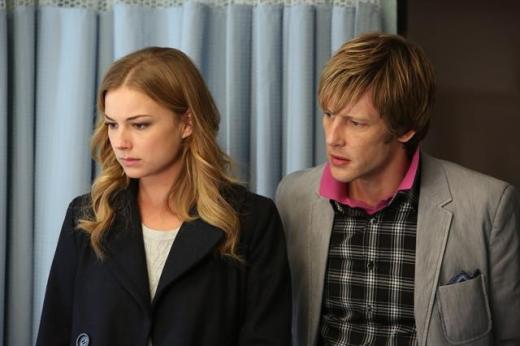 "Desperate to find Padma, Emily, Aiden and Nolan must track down the Falc0n's identity and put a stop to the Initiative, while Emily struggles with her future and Victoria fights her own battle after a very exposing interview on Nightline."
Aiden, as we know, killed Trask and had to flee the building before we could really find out what happened to Padma, who lay motionless but could conceivably be alive? It's all very unclear at this point.
Is Nolan's love interest not dead after all? Regardless, how will the Falc0n (nice stylization by ABC) be taken down? Will Team Naidily finally triumph over the Initiative or will this carry over into Season 3?
The following three Revenge Season 2 episodes and dates appear below:
May 5: "Engagement"
May 12: "Truth" Parts I & II (two hours)
Share your predictions for the end of the season in the comments!
Steve Marsi is the Managing Editor of TV Fanatic. Follow him on Google+ or email him here.