With another couple weeks to go until ABC airs a new episode of Revenge Season 2, we have our second major spoiler of the week regarding this suspenseful drama:
A couple is about to get engaged! Actually... re-engaged!
Yes, Emily will once again agree to become Mrs. Daniel Grayson later this spring, as revealed in the network's very own episode description for the aptly-titled May 5 installment: "Engagement." It reads:
Emily plots her next move in her new role as Daniel's fiance, while Aiden struggles with the re-engagement. Meanwhile, Jack learns more than he bargained for, and desperate times call for desperate measures as Conrad's gubernatorial numbers slip after Victoria's big reveal on "Nightline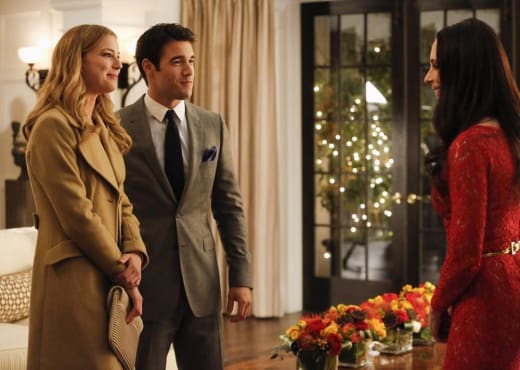 Of course, this still leaves the question: Is Emily actually back in love with Daniel? Or is this all part of her grand plan?
Just a few days ago, creator Mike Kelley also revealed that a core character will die on the Season 2 finale. That episode airs on May 12 - and that's also the date on which we'll learn the dead individual's identity.
Matt Richenthal is the Editor in Chief of TV Fanatic. Follow him on Twitter and on Google+.