The Client List Review: Give Them Something To Talk About

Carissa Pavlica at .
"Unanswered Prayers" opened with a fantastic quote. It seemed to set the tone for the entire episode, if not the entire series:
Client: People think it's the lack of monogamy that breaks tears marriages apart, but it's the lack of trust. I can't imagine finding out that the person you share your life with has been living a lie. | permalink
Riley pretty much lies to everyone in her life about, well, everything. There are exceptions, of course, like Lacey, but Lacey was on the receiving end of some lies of her own with Dale as he got back with his old band, The Ring Tops. Which, apparently, used to have a singer named RILEY PARKS.
Good Lord, their scene when they discovered Dale was with a band was out of the world outrageous. The three of them all screaming at once about mechanical sex, new singers and the need for girl time. It was a really great scene, even if it was hard as hell to follow!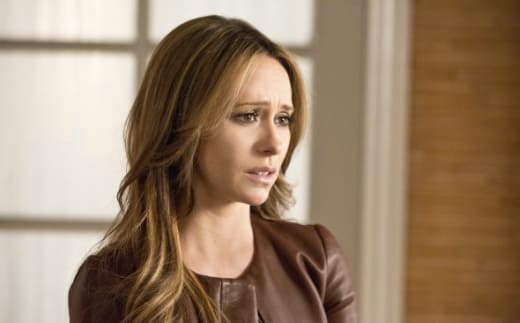 The quoted client with the awesome marriage without lies also liked to find bands in his spare time. Of course he talked Riley into giving him the address to The Ring Pops gig and Riley got on stage. Damn, did his face light up or what? It was awfully fortuitous that Riley wore pants and what appeared to be a negligee to her night out, as with her voice and bouncing ta-tas she put on quite a show. He said he was going to bring The Wolf to their next show and she was about to be discovered.
It made me wonder if people would watch a show that was about Riley doing gigs with guys hitting on her in a different way than they do now, while she still ran The Rub and we kept up with the gals and guy over there. Georgia left The Rub and still has a place on the show, so it could happen. But whether it would be a success is the real story.
Kyle almost got into trouble in jail when a fellow inmate called Riley a hot piece of ass. Kyle and Riley keep getting closer, but not too close yet. Dale telling Evan to hit the delete button on Riley to go for the academy chick or Honey of The Ring Pops didn't make Evan a happy man.
Kyle was closer to coming home so could have seen how long it lasted. If he testified against someone he was scheduled to get out, and then, finally, we'd see Kyle and Evan face off about Riley. It's too bad it wasn't done when Evan and Riley were still having a thing, as that would have been a great story. But, that "hot piece of ass" guy ended up getting in a fight with Kyle. Will he even get out?
Just before Riley got on stage for her big stage break, Katie called and she had to go home. I'd make a horrible mother. I would have gotten on stage and sang first and then gone home. Katie was only afraid to go to sleep. Yes, we're very happy I'm not a parent. The good news is that I think her client really believes in her and might give her another chance if she wants it. The look of concern on his face was real. He knew she wouldn't cut and run for nothing. Riley makes some pretty great friends through that client list.
Other bits n bobs:
It was really sweet that Riley had a "that's hero hot" reaction to Derek's scars when he finally had his shirt off in the locker room.
I absolutely adored the black outfit Selena had on when Derek talking into her ear at The Rub. It was so cute. Was it one piece? Who wants to make me one? And make me look that good in it?
Did you notice that there using more and more excuses to give J Love reasons to sing? Even in a flashback to when she and Kyle were new parents.
Lacey showed up at The Rub because Dale fell asleep during sex and Riley gave her a free Derek massage. When she shouted NIPPLES during the massage, I laughed out loud. She freaked out and ran out without even getting a good massage.
I'm unclear - are Selena and Derek dating or just doing the nasty now?
Is it wrong that I don't want Evan dating the police academy chick? There's something about her that feels off.
This episode was a little light for my taste. It felt like they just wanted to put out a new J Love single or something. Is there a video I don't know about that was released this week? I'd rather have the harder hitting stories with a little more depth to them. How about you?
Carissa Pavlica is the managing editor and a staff writer and critic for TV Fanatic. She's a member of the Critic's Choice Association, enjoys mentoring writers, conversing with cats, and passionately discussing the nuances of television and film with anyone who will listen. Follow her on Twitter and email her here at TV Fanatic.