This week we said goodbye to one of television's favorite zip codes. After an hour retrospective with the cast and crew of 90210, it was time for the series finale, "We All Fall Down."
Picking up right after last week's crazy cliffhanger, we dove right into the aftermath of the explosion at the theater.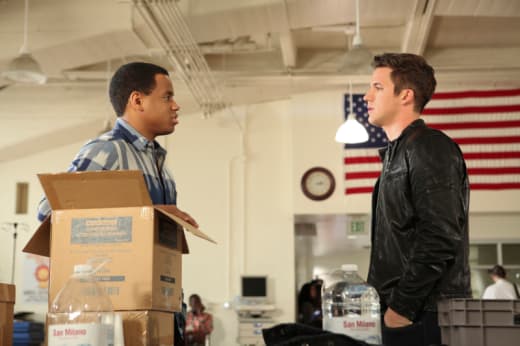 Since Adrianna was finishing her act as the stage started shaking, she ended up trapped in the rubble. With relief efforts accounting for everyone else, Navid ran back in and scrambled under a very shaky infrastructure to rescue the love of his life. As they awaited help (and somehow had cell service) they talked about how to proceed when they finally got rescued. At first Adrianna wanted to take it slow, get it right... but after a gas leak that endangered their lives even further, they decided that this was it. They were all in. Navianna forever!
All hands were on deck helping with the relief effort, even if Naomi's motive was partially selfish. C'mon, it's Naomi, what'd you expect? She still get the job done! After throwing a Goo Goo Dolls concert to raise money and remedy her image, the show had to be cut short for emergency vehicles to deal with the gas leak.
Because Naomi was out the money, she agreed to a reputation damaging tell-all interview about the other Prince Harry for half a million. Then she donated all of that money to the Red Cross. Atta girl, Naomi.
As it turns out, Naomi's interview convinced the Prince that he needed to go to rehab. The Emperor was eternally grateful and now Jordan's momzilla owed Miss Naomi a favor. Jordan parlayed this - and voila! - Naomi got her happy ending.
Not everybody got the same, but everybody did feel the power of friendship. Silver received bad news regarding her scans. She has cancer. She picked up a bottle of prescription pills and considered going down that route, but Dixon shed a little light when he sat down to talk to her about adoption. By the way, that was probably my favorite scene of the finale. I love Dixon and I love that he was able to be there to support Silver.
You reach deeper until you can find the strength. That's all life is, one big fight after another. | permalink
I also teared up a little when Annie hugged Dixon goodbye before Paris. With other ends tied up, Annie, Naomi and Jordan gassed up the private jet to head to Washington D.C. and then France. As Annie looked miserable rolling her suitcase on the jetway, Liam was racing to the airport. He finally read the ending of her book and realized that they were meant for each other.
In a totally risky, corny, but also incredibly romantic move, Liam rode up alongside the plane until he caught Annie's attention. Seriously I think the last time I saw that move was with Jim Carrey in Liar, Liar. Anyway, Annie stopped the plane. Liam hopped off the bike, gave his speech - and got down on one knee. I guess Annie was wrong when she said life wasn't like her book and she couldn't get a happy ending.
Lannie fans, are you satisfied?
Considering how little time the writers had to turn a season finale into a series finale, I enjoyed the last episode of the second coming of 90210. What about all of you? What was your favorite part? What would you have changed? Hit the comments and take a little Naomi Clark advice for the road:
I've there's one thing I've learned, it's that it's never over. It's only just beginning.