The American Idol Top 3 returned home this week and were greeted with fanfare fit for queens. With ticker tape parades, concerts and greetings from mayors, this is but one sign that life for these ladies will never be the same. 
But now it's time for them to take the stage one more time. Tonight they'll sing three songs each: Jimmy's choice, judges' choice and Idol production picks. 
Let's get started to find out who sang best!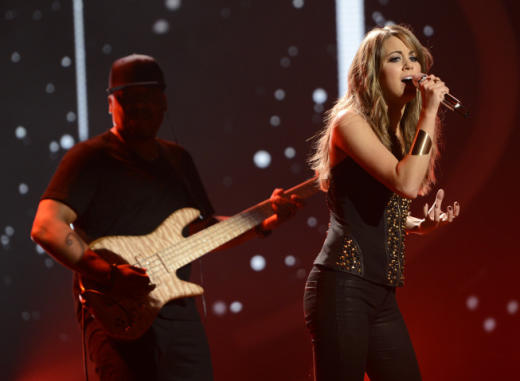 Round One: Jimmy's Choice
To start the night, Jimmy gave Kree Harrison "Perfect" by P!nk. She adds a country spin to the song, and she definitely has a signature sound, but this is not at all her best performance. There were runs where there shouldn't be, it was mixed weird, the sound was off, and her heart did not seem in it. That just sort of fell apart. When Keith asks her what she thought about the song choice, she replies that it has a great message. Keith felt the song only emphasized that she's a country girl and that she has a signature sound. Nicki says that the quality of Kree's voice is always apparent but felt like Kree's movement was restricted. Randy thought the performance lacked pizazz. Mariah believed the song choice to be "interesting" and thought that Kree was holding back so that she could push vocally later. 2/5
Candice Glover was given U2's "One." She goes a little sharp near the beginning but then settles into the song and belts it out. It's not my favorite performance of hers, but that's more because of the arrangement than her vocals. She can sing anything. Nicki believes that Jimmy made a great song choice and could hear Mary J. Blige's rendition in Candice's performance. Nicki believes that the competition started with Candice. Randy says the third time is the charm and echoed Nicki's sentiment that the song choice was perfect even if all of the performance wasn't. Then we got an "in it to win it." Mariah could tell that Candice wasn't happy with her performance but says that the audience could feel it and that's more important. Keith loves the power in Candice's voice. 3/5
Jimmy chose "Sorry Seems To Be The Hardest Word" by Sir Elton John for Angie Miller. Instead of sitting behind the piano, she opts for standing behind a microphone. It's vocally flawless. The best vocal of the first round by a mile. The mic stand helped her tone down the theatrics and while she may not have completely channeled the emotion in the song, she sang the pants off of it. Randy loved how restrained she was and really liked the way she sang the verse. Mariah felt like this was one of the best performances she's done on the show. Keith complimented the song choice and its exquisite melody and almost wished she had held back even more. Nicki called it a steller vocal but felt it wasn't quite as emotional as she'd hoped. 4/5
Round One Winner: Angie Miller
Round Two: Judges' Choice
Up first in Round Two, Candice Glover was given Emeli Sande's "Next To Me." This is one of those songs where Candice shows her versatility. She's clearly suited for R&B, but when she's given a Top 40 hit, she still shines. This performance is fun and upbeat and I love that Candice isn't afraid to tackle a song with a faster tempo. Mariah calls her vocals "A plus mazing." Keith said he was hooked on the story in the song from the opening note and loves her confidence. Nicki tears up, tells Candice she's proud of her, and then ends her critique with "congratulations." Randy said it was amazing vocally and patted himself and the other judges on the back for their song choice. 4/5
Angie Miller was given "Try." She's at her own show right now. This is the best performance she's had all season when she's not behind a piano. She sings amazingly. She rocks out with the band and moves around. She's so confident and I love it. Keith loves that she didn't play the piano and complimented her confidence. Nicki echoed Keith's sentiment about her confidence and comfort on the stage. Randy again complimented the judges for making a good song choice and said it fit Angie like a glove. And there was an "in it to win it." Mariah calls her "festive" and confident and feels like she's found her place. 5/5
For Kree Harrison, the judges chose "Here Comes Goodbye." It's nice for her to get to sing a pure country song and just sink into it without trying to make it sound like another genre. There's a sharp note in the middle and the beginning is better than the end, but her heart was in this in a way it hasn't been in weeks. And the staging was brilliant. Nicki calls this one of Kree's best performances to date because she felt the song. Randy calls it brilliant. Mariah says she's in awe of the purity when Kree sings. Keith says she sang it just right and felt it just right and had him from beginning to end. 5/5
Round Two Winner: Kree Harrison, by a hair.
Round Three: Idol Production Choice
Angie Miller gets "Maybe." For her final performance, she takes a seat behind the piano. The piano feels like it's trapping her instead of helping keep her grounded. She's over-performing with her body and over-connecting with the camera. Vocally it's solid but this wasn't her best of the night. Randy says she sang her heart out and became a complete performer tonight. Mariah felt like Angie wasn't over-theatric and has nothing negative to say about the performance. Keith said she's finding her groove. Nicki believes she's emotionally connecting every time. 3/5
Singing The Band Perry's "Better Dig Two," Kree Harrison is up next. She's able to show a little attitude here and have fun with the song, but this isn't her. There's not a ton of room for her to show off in the song, but she's having fun. Mariah likes sorrow more than anger. Keith likes the song but doesn't think it was the right kind of song for her. Nicki also didn't like the song choice and calls for the stoning of whomever picked the song. Randy calls it "too ordinary" for her. 3/5
To close the night, Candice Glover was given "Somewhere" from West Side Story. Talk about your different song choice, I didn't see a show tune coming for her. But in true Candice fashion, she does an amazing job. Simply amazing. She has the voice for big, theatrical numbers like this and even Mariah stands up to clap. Keith makes a great joke about voting for Candice or not having a pulse. Nicki says "see ya next week." Randy tells her she now has two of the greatest performances in Idol history. Mariah says this is proof that Candice really can sing anything. 5/5
Round Three Winner: Candice Glover, by a mile.
Here's the breakdown after three rounds of songs:
Angie Miller-- 12/15
Candice Glover--12/15
Kree Harrison--10/15
As much as I love Kree Harrison, I think she'll be leaving tomorrow which will make Angie Miller and Candice Glover the American Idol season 12 Top 2. She's lost a little magic in the past few weeks and while she regained some of it tonight, I'm not sure it was enough to overcome the strides Angie has made and the amazing vocals Candice has given. 
It won't matter if she wins, though, because I feel certain that each of these girls will have excellent careers after Idol. 
What did you think of tonight's performances? Who do you think won the night? 
Miranda Wicker is a Staff Writer for TV Fanatic. Follow her on Twitter.