Given the material that formed "Blood and Treasure" I wasn't nearly as moved by it as I would have expected. Even Michael's incredible welling of tears didn't fetch the same from me this week, and I think it was because the writing was all over the map.
Jordan told Kat that her mom gets a look when General Holden's name comes up. Michael's face sure lit up like a Christmas tree when he saw her walking down the stairs and learned she'd be seated at his table at the charity dinner. Did I call it or what?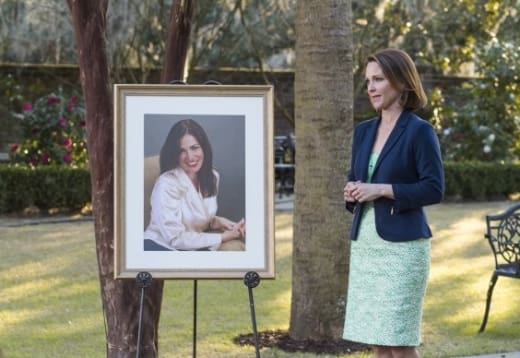 Just because Michael had strange thoughts about Kat after their evening out and connecting like they did, especially after the dedication of the reflection pool, do not count them out. It's normal for him to pull back. The day was all about Claudia Joy and having feelings about another woman at that time wouldn't be appropriate. 
The thing was, Kat understood. She had spent 12 years with the same emotions Michael was going through. I still think they will pass and the two will find their way to each other. From their conversation at the charity dinner, I could imagine Claudia Joy smiling down on them.
After wondering what happened to Penny, she not only showed up, but got hit by a car before the dedication of the reflection pool for Claudia Joy. It kept Denise and Gloria from the ceremony and I kept thinking that even though Penny had already decided to give up the baby, somehow Gloria was going to end up caring for it and raising it because it's Hector's.
Gloria sent Hector a letter and a photo of his son, but from what we know, the adoption took place as planned. It was a good way to write the ending of the story with an emotional catch, but it just felt out of place somehow.
When Eddie told Maggie what a great day it was after getting his ass chewed by Colonel Sherwood, I had to wonder if he might not be out to get Pat's job, and thereby giving him bad advice to go against orders knowing that as his superior, Pat would take the higher fall. Eddie is just really so hard to read.
The Afghanistan scenes were also off this week. It was the first episode in many that didn't flow smoothly and it seemed as though there was a worry that too many story lines were left unfinished so taking an episode to just wrap them up would do the job. It didn't.
Roland was back, and after weeks of Joan considering her children as her first priority, once the War College carrot was dangled in front of her, she seemed to completely reject his option of her retirement and his full time job at Johns Hopkins. His reaction? Choose me or choose divorce. 
I'm going to chalk this week up to a temporary glitch and just look forward to next. It's kind of like what Frank said. Last week those areas were worth risking lives and this week we're abandoning them. So I'll do the same and look forward to the next batch of stories to come forth.
Carissa Pavlica is the managing editor and a staff writer and critic for TV Fanatic. She's a member of the Critic's Choice Association, enjoys mentoring writers, conversing with cats, and passionately discussing the nuances of television and film with anyone who will listen. Follow her on Twitter and email her here at TV Fanatic.