After starting slow, Chicago Fire eventually morphed into one of NBC's few must see TV shows - and "A Hell of a Ride" delivered a perfect ending.
Initially, the prison setting didn't grab me like the episode kept trying to do, but as the situation continued to escalate out of control - with Hermann's life suddenly in danger - I was completely hooked.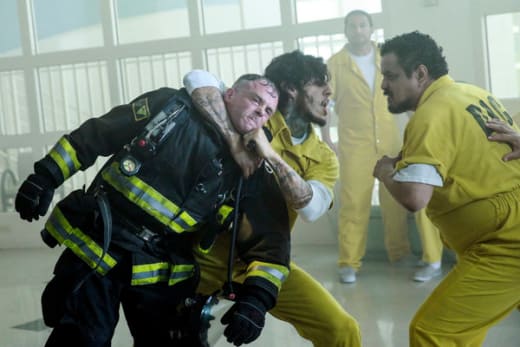 Being trapped in a smoke-filled prison wouldn't be on my short list of acceptable places to do confessions, but with no real place to go (and a prisoner bleeding on the floor) it became the ideal location for Dawson and Mills to have their heart to heart after the unexpected breakup.
Mills: Just tell me honestly that you don't have feelings for Casey. | permalink
Mills has always shown inklings of jealousy whenever Dawson and Casey were together, particularly when they were shopping for stuff to fix up Molly's, so at least he was finally voicing what's really been bugging him the entire time. Mills asking the question lead me to believe that Dawson telling him about Boden and his mom gave Mills the perfect out.
The news wasn't something Mills wanted to hear, but his anger at Boden could be channeled at Boden alone. The Casey and Dawson question ended up being the bigger question mark for him.
Dawson: I can't tell you what you need to hear. It wouldn't be the truth. | permalink
While Dawson might be ready for something, Casey is not. His grief hit me the most on the finale. There was a small glimpse of it when he offered to trade himself for Hermann as the hostage, but that action was also something Casey wouldn't hesitate to do.
It was unexpected to see the most put together, levelheaded man in the house be the one most in need of fixing. Dawson (and Severide) is the best person to help lift Casey out of his grief, and I'm excited to see those scenes play out when Chicago Fire comes back in the fall.
Hermann finally having some good news in his life after a season of set backs and bad news was gratifying. It's about time Hermann wins at least once, and his speech to his little baby boy at the end in his video journal to him was just perfect:
Hermann: You're a lucky guy. A lot of people are going to have your back no matter what. | permalink
The biggest shock of all came from a now pregnant Renee. Shay and Kelly's first attempts at getting pregnant didn't take; now Renee is back in town with the one thing Shay wants more than anything and the one thing Kelly has only just begun to warm up to.
With Sarah Shahi being upped to a series regular on Person of Interest I can't imagine she'll be in the picture for long, and this could be one way for Shay to get the baby she's always wanted.
Two More Observations:
Mill's decision to get an application for the Chicago PD is a bit odd. He wants to join rescue, but since he's passed up he's going to do the next best thing by joining the police department?
A sports bar is opening up across from Molly's