"The Women; Heroine" was hands down, the best episode of Elementary Season 1, if not the best finale I have seen this season on television. It featured all of the twists and endings that season enders should possess.
If there was a way I could rate this a 10 out 5, I would. I am just so completely satisfied with this finale and with this whole season. What a joy it has been to have been apart of it and to share it all with TV Fanatic.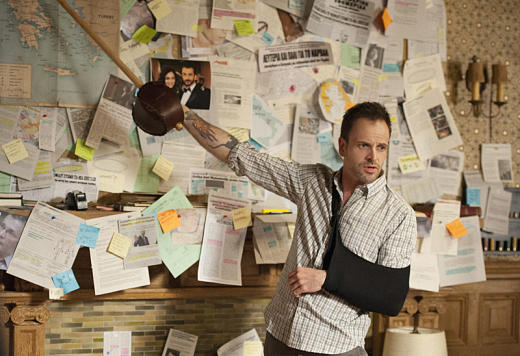 Last week, we were taken aback by the the major plot twist that Irene Adler is indeed alive. How could the possibly top such a reveal? Easy:
Irene Adler is indeed Moriarty.
My jaw is still in pain from hitting the floor so hard. The fact that Moriarty used Irene Adler against Sherlock to break his heart, put him into a drug stint, force him to relocate and basically break him to his very core it blows my mind!
When it was announced that Arnold Vosloo was guest starring I figured that he was going to be Moriarty. Absolutely not. He was just some patsy, a pawn in Moriarty's game.
When Moriarty was confessing to Sherlock that he was a game she was always going to win, I knew that in my heart the person that was going to beat her at her own game was Watson. Man, did I love being right. If Joan had business cards the title would read, "Joan Watson, Heroine" - I'm so overjoyed at the payoff of her character in this finale. This whole season we've been building up with Watson, she's slowly been learning and finding the necessary tools. Lo and behold she was the key component to bring Moriarty to justice.
The best part for me tonight was the fact that Sherlock confessed that Watson was the one who solved Moriarty. The one who hatched a plan to fake an overdose so that she would fall for it. I am such a Joan Watson fangirl.
Then Sherlock named a bee after her! I am dead. Seriously, I cannot wait for season two.
It seems inevitable that Moriarty will return because, let's all take a moment to be real honest, she was a badass and incredibly terrifying. She is intelligent and has the resources to find a way out. I think I like the character of Moriarty more because she does indeed love Sherlock, not the normal kind of love, but the kind that fascinates you.
Lastly, I just want to say that Johnny Lee Miller is the perfect Holmes and Lucy Liu is the ideal Watson. Until next season...