Welcome to another edition of DVD Tuesday at TV Fanatic.
Below, we rundown the latest releases and, in this week's case, make one of them available to a few lucky readers. Read on for details on Fringe, Suits and Private Practice and then enter the giveaway below...
-------------------------------------------
Fringe Season 5: If you're like me, you're still missing the sci-fi drama that ended its run in January. But while Walter, Olivia, Peter and Astrid may be no more, you can relive the final crop of episodes with the fifth and final season DVD and Blu-ray.
The fifth season reset the show once again, jumping into the future and also adding Peter and Olivia's grown-up daughter Etta to the series. The bad guys now are the Observers who have taken control and it's up to our gang to stop them. And - like its best episodes - Fringe balances out the fight to save the world with intensely personal stories involving the entire cast. While these excellent episodes may make you miss the drama a little more, it's comforting to know that the story, writing, directing and acting were top notch until the very end.
EXTRAS include 'A Farewell to Fringe' featurette; the fantastic panel of the final Fringe panel at Comic Con 2012; a gag reel; and producer commentary on select episodes.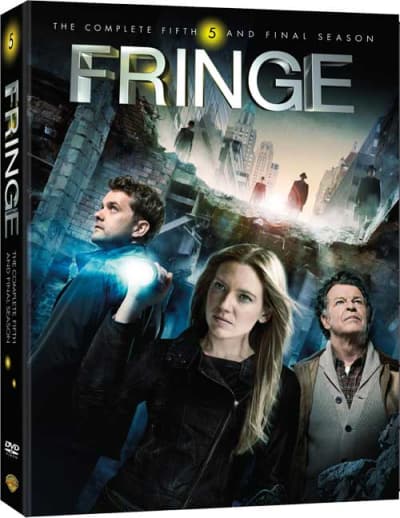 Want a copy for yourself? We are giving away THREE (3) copies of the Season 5 DVD to THREE (3) lucky readers. Enter by midnight on May 21 in any of the several ways listed here. Good luck!
UPDATE: The winners are: AJ D., Clem B. and Marie R. Thank you to all who participated!
A pair of other releases available this month:
Suits Season 2: Things got even more complicated at Pearson/Hardman in Season 2 with the return of founding member Daniel Hardman back to stir up everything and everyone. But the drama at the legal firm is coupled with romantic complications and loyalties tested between Harvey Spector (Gabriel Macht) and his protégé, Mike Ross (Patrick J. Adams).
Suits also stars Gina Torres, Meghan Markle, Sarah Rafferty and Rick Hoffman. The DVD/Blu-ray release arrives on May 28, just in time to get caught up before the July 16th season premiere on USA.
Private Practice Sixth and Final Season: After six seasons, the world Shonda Rhimes created from this Grey's Anatomy spinoff closed its doors - but the final season lives on in DVD/Blu-ray.
Follow the final adventures of Addison as she and the gang wrap things up in a heartfelt manner. While the final season loses one of its longtime cast members (Tim Daly), there are also babies, a wedding and the usual love and romance mixed with medical stories and a great 'Saying Our Goodbyes' feature where the cast gets a chance to bid farewell. Available now.
Jim Halterman is the West Coast Editor of TV Fanatic and the owner of JimHalterman.com. Follow him on Twitter.