Welcome back to TV Fanatic's Grey's Anatomy Round Table!
Our Grey's Anatomy review broke down "Perfect Storm" in great detail. Now, TVF's Courtney Morrison, Christina Tran and Sean McKenna are back for a Q&A discussion of the Season 9 finale.
Read their answers below and weigh in with yours!
----------------------------------------
1. What was your favorite scene or quote from the episode?
Courtney: I really enjoyed all the scenes between Derek and Cristina, but I may have to go with Jackson emerging from the fire holding that little girl. HOT.
Sean: Gotta go with Jackson walking out from the smoke. Kind of a cool moment, even if I was prepared for the slow motion walk through. Plus, he saved the little kid, so what's not to like?
Christina: My favorite scene was the McFamily together with a new happy and healthy addition.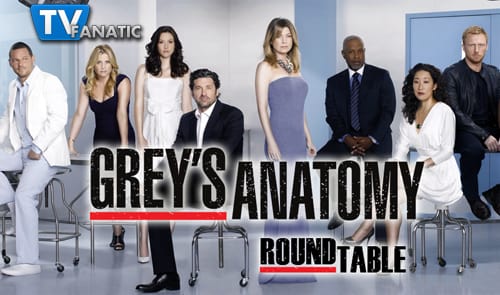 2. What will happen to Calzona? Can they work it out? Will Lauren stick around?
Courtney: I wouldn't mind if Lauren stuck around, she brings a new dynamic to their situation that they have never dealt with. These two will have to try and work it out because they have a daughter, right? One thing is for sure. Callie doesn't deserve to be cheated on, not even a little bit.
Sean: I'm a bit shocked Arizona dived right into cheating so soon, but I hope the show commits and keeps Lauren around then to have some real repercussions to deal with. Sure, it may have been Hilarie Burton, but you can't just cheat and get away with it. I'm not sure if Arizona and Callie's relationship will survive from all this.
Christina: I, too, want Lauren to stick around as Calzona's marriage will be put to the test once again. I think it will take a very long time to move past what happened, but they've always found a way before and they'll eventually be okay.
3. Bailey's back! What made you happier - her return to the OR or seeing Derek and Meredith with their children?
Courtney: Gotta love Bailey doing her thing in the OR, plus she saved our precious Mer. But nothing is better than seeing Derek and Mer with McBaby Bailey and Zola. These two, especially Meredith, have come so far.
Sean: Bailey coming back. Glad that Meredith and Derek had their kids and things were OK, but Bailey had been down in the dumps for the longest time. It was good to see her back in action.
Christina: I'm going with the latter. It was nice to see Bailey back in business but I was already too annoyed by her at that point. I get what happened to her was a big deal but felt like she needed to step it up earlier.
4. Should April call off her engagement to Matthew or will Jackson tell her not to?
Courtney: CALL IT OFF! Not only is Jackson sweet, caring, and gorgeous. But he has stuck by her through everything. She hasn't even known Matthew that long.
Sean: She should call it off whether Jackson says he should be with her or not. Sure, I think April and Jackson seem to be sort of meant for each other, but it's not fair to Matt because now he's clearly second fiddle. Picking him because Jackson said no would just be wrong. Good for Jackson and April, but let Matt go find another girl.
Christina: I completely agree with what Sean said. April needs to be a grown up and end it with Matthew regardless if the ball is in Jackson's court or not.
5. Will Webber live or is this the end of Richard?
Courtney: Webber better live!!! It makes sense to move in that direction for the dramatic effect, but I don't know how everyone can recover from another loss, especially of the man who has molded all of them into who they are.
Sean: I knew he was going to be the one to "die" at the end as soon as I saw him alone traipsing around looking to turn the power back on. I would have believed a guaranteed death had we seen his eyes open at the very end, but I've got a feeling that there's a possibility he pulls through. If this was his final episode, at least he went out a champ.
Christina: He's going to live! He has to...
6. Grade Grey's Anatomy Season 9 from 1-10.
Courtney: 8. Throughout all the ups and downs, Grey's always manages to tug at the heartstrings!
Sean: I'll give it a 7. Interested to see where the show goes from here, especially after nine seasons.
Christina: 6. This past season hasn't been one of my favorites. Maybe it's the absence of Slexie, but it's felt felt quite different. Here's to hoping Season 10 will be one to remember!
What do you all think of this week's Grey's Anatomy? Share your responses below!