Grimm Review: Close Encounters of the Wesen Kind
Nick McHatton at .
Welcome to Tuesday, Grimm! 
"Endangered" was one of the better installments to introduce new viewers this far into the season, thanks a mostly predominant procedural case and light, easy to follow serial elements.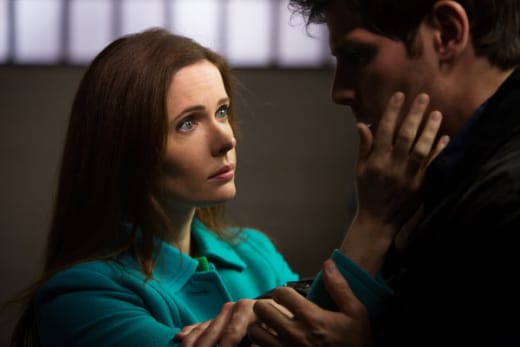 Nick, Monroe and Rosalee's adventure to save the tiny blue Wesen and frame the UFO-ologist reminded us how far the three of them have come as a team. Nick isn't worried about getting a warrant about anything anymore and would much rather just tell Monroe to commit a crime to get things done.
Monroe and Rosalee follow along happily like the awesome sidekicks they are. They all stepped up to protect the newborn Wesen, and instead of letting justice take its course, they gave the newborn family a fresh start and framed the skinner instead.
Some more information was divulged about the key from Renard and Monroe. The latter narrowed down the map to Germany. Renard's answer regarding what the key is hiding is still mostly hidden, but the legends do point to it being something BIG. Renard also shared that they royals have four of the seven keys and the other two are currently unaccounted for.
Renard and Nick's interactions are still tense, most of which has to do with Renard. The guy is still a complete enigma and we're completely unaware of where he is in his plans for Nick, Portland and his royal family. It's fun and enjoyable to continually wonder where Renard might be, but I'm hoping before Grimm Season 2 comes to a close we'll begin to see more information from him.
I'm glad that as Juliette begins to regain more of her memories together with Nick that she also acknowledges how poorly she treated him. While I've been very vocal over the memories issue, I love seeing the flashbacks to simpler times with Nick and Juliette.
Their chemistry together is fun and playful, and, after watching an angst-ridden season, seeing them say, "I love you" to each other for the first time in the flashback finally brought me back to a place where I'm rooting for them as a couple again. It happened right around the same time we saw Juliette rediscover the emotional connection she had with Nick at the end of the flashback.