"The Walking Dead" was a difficult episode to judge. It's unfortunate NBC couldn't work out the scheduling to air this and next Tuesday's installment back to back since so much of hinges on what's coming next.
Nevertheless, this was a step up from last week's underwhelming episode.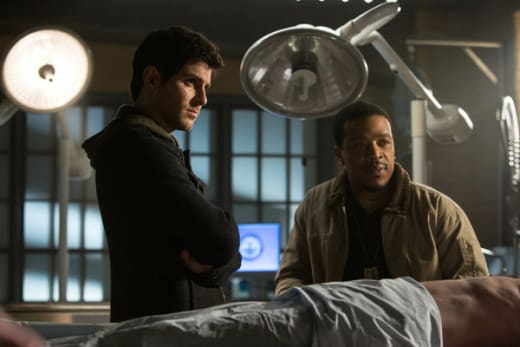 All of the storylines are coming together in ways that are more exciting than Grimm has been projecting. Renard's brother, Eric, has taken a detour to Portland, unbeknownst to everyone - and he's in cahoots with the zombie maker who has shipping containers filled with zombies (Hoarding: Buried Alive!).
Is Eric trying to take over Portland? Or is he just trying to overwhelm and destroy his brother? It's been a long time coming for Renard and Eric to finally have a face to face. 
Juliette's encounter with woging the first time went far better than I ever expected, but with a wiped memory of just your boyfriend being exposed to Wesen in the flesh is probably the least of her worries.
This exposure should've happened a very long time ago, maybe even a season ago like Nick tried to do, but better late than never. Juliette has became incredibly stale as her story completely stalled for weeks at a time, and her readiness to jump in and learn more about this world Nick and his allies are in doesn't feel like Juliette as a character because of those actions. It feels like making up for lost time.
Nevertheless, her response and attempts to be at peace with the woging is admirable considering how long it took Hank, and, to some extent, Nick. The scene would never have worked as well as it did without Rosalee and Bud however.
Adalind being caught in the middle of Frau Pech and Stefania can't be good. And her binding, forcibly signed contract makes me wonder if both Frau Pech and Stefania are working for the royal families. They know how much money the baby can fetch, and the best payout of all might be for the families to do away with the baby (and mother) completely. That might be what the photo-free documents Renard's mole found are for.