Amidst a season that has felt underwhelming to this point, "For Immediate Release" made it clear that Mad Men is still one of the best series for developing character and interesting story telling.
Sure a merger has made since for a bit, figuring that they weren't going to want Peggy to be away from the main cast for too long, being over at CGC.  Recently, it had been on the radar even more given the conversations about SCDP and CGC being small fish in comparison to the giant agencies that kept stealing accounts.
But still, to have such a major event like this occur in the middle of the season, and what felt like a pretty anticlimactic nature, is pretty ingenious.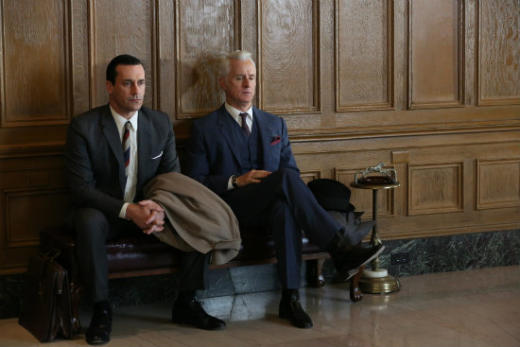 Like every time this ad agency has expanded, or reinvented itself, or upgraded, this merge gets me excited to see how everything will change for these characters.
The most interesting of which is Peggy.  It has been obvious that she has loved being in the role that she has been over at CGC.  Will she be able to have a similar feeling in her new role as Copy Chief at the SCDPCGC?  Will she be able to work the same way now that Don is back in her fold?  Will they butt heads more often?  Or will Peggy quiet down and bow out more often, allowing Don to run the show again?
SCDP wasn't able to land the Chevy account by itself, and neither was CGC, because both agencies didn't have the man power, or money, to be what Chevy needed.  Originally, both Ted and Don were afraid that the GM company would just take their ideas and use them with a large agency's resources to get what they wanted.*
*Interestingly enough, the great car they were working on turns out to be the Chevy Vega, which received plenty of praise at its inception, but gave owners plenty of fits and subsequently tarnished the reputation of GM.
Don never would have gotten in the room with Chevy, however, if it had not been for Roger Sterling's wheeling and dealing.  Pete Campbell may be grinding out business for SCDP, but in a pinch, Roger can still make things happen. He's proved that time and again.  Watching him work his way into a sit down with Chevy thanks to his lady friend at the airport was a thing of beauty.
The hour began with Pete, Joan, and Bert talking about SCDP going public, an action that would double to agency's size.  After Don said "see ya" to Jaguar, and Pete's trip to the pleasure dome ruined the Vicks account, the IPO was off the table.
Luckily, the eventual merger might turn out to be better for the team in the long run.  With the increased resources this mega agency will bring and the loads of creativity they now seem to have, SCDP-CGC, or whatever Peggy decides to name it, could be a serious contender in the ad game in the near future.
A few other notes from "For Immediate Release"
I dig Megan trying to keep her man close by upping her sexual nature, I mean she had to try something, but it didn't seem like it got Don more connected emotionally at all.  The man has checked out.
I love Allison Brie in this role, but I couldn't care less about anything that has to do with Pete and Trudy.  That relationship has never resonated with me.
Watching Don break it off with Jaguar was fun, but seeing Joan so upset about it was not.  I can't imagine what she is going through given what she had to do for them to get that account.  On the bright side, she IS still a partner because of it.
Ted and Peggy kissed.  Hmmm. Will that come back into play?
Pete to Don: Don't act like you had a plan. You're Tarzan, swinging from vine to vine.
I thought "For Immediate Release" was the best episode of Mad Men this season. What did you all think of it?  What were your favorite moments?  Which parts didn't you like?  And what do you expect to see from the new SCDP-CGC?
Dan Forcella is a TV Fanatic Staff Writer. Follow him on Twitter.