While there were a lot of moving parts on "The Better Half," this week's Mad Men featured the original king and queen of the cast, Don and Betty Draper. It was a surprising turn of events and deserves some deep exploration.
To start, we'll cover the other areas of interest and finish out with the bang.
Once Pete learned Harry had gone to Duck to explore his options outside of SCDP et al., he did the same. The bad news is that after the merger things look worse on the outside than they did before. To the public, it's a firm full of Chiefs with no Indians. Don't bemoan the turn of the phrase, because that's what the time called for. The employees and the partners have actually lost value to the public by joining forces. It was just one more thing added to the many stresses in Pete's life.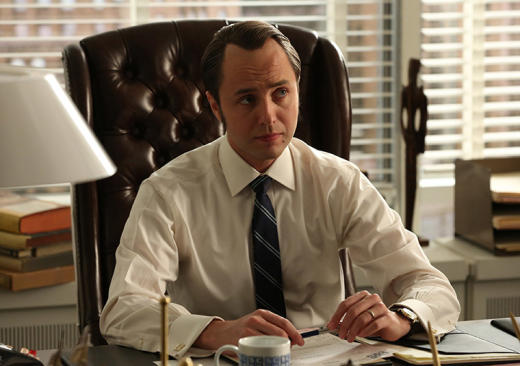 Roger made a grand-parenting boo boo and upon his restrictions with his grandson decided to try to up the ante with own son, Kevin. Needless to say, Joan wasn't up for that and Roger was left blowing in the breeze.
Then we have Peggy. Peggy is struggling at work because she's being used as a pawn between Ted and Don, with the former using the added influence of "being in love with his protege." If Peggy's life at work is a soap opera of confusion, her home life is one out of the movies.
After Abe forced her hand to move into a bad neighborhood, he wound up getting stabbed. His writing is setting him up as a target in the very hood he seems to want to fight for, yet they are targeting him, throwing bricks into their windows and leaving Peggy feeling afraid in her own home; so afraid she stabbed Abe when he walked up silently behind her. The result?
Abe: I thought you'd be braver. You're in advertising.
Peggy: Don't do this right now. I said I was sorry.
Abe: Your activities are offensive to my every waking moment. I'm sorry, but you'll always be the enemy.
Peggy: Are you breaking up with me? | permalink
After declaring his love to such a degree that Peggy was told she couldn't even brush her hand against his when handing him a presentation, Ted then displayed utter apathy over her breakup with Abe, showing no interest in kindling something she seemed open to once she and Abe were over.
I don't think there are a more confused bunch of people on television than you can find on Mad Men.
Which brings me to Don and Betty. Betty is back to her fighting weight and looking gorgeous. Turning heads and stopping men in her tracks, that's Betty. But this time she's a calmer, more confident Betty than the one she was when she was married to Don. He came upon her being ogled at a gas station as they both made their way to Bobby's summer camp for the weekend.
Later, they had a series of what might have been the most deep and meaningful conversations they've ever had that we've been privy to. With the way things ended between them, they really needed a closing moment. Something that would allow them to remember the good times where they started, instead of the mess they were at the end of their marriage.
After a short, thoughtful walk down memory lane, Betty left the door open for Don to follow her into her room and they reignited the passion we never knew they had. It was rather beautiful. From Betty asking what he thought when he saw her to Don saying they could have just laid here in each other's arms and it would have meant as much, it was an exquisite revisiting of their lost love. Betty had something wise to say with regard to Megan, as well.
That poor girl. She doesn't know that loving you is the worst way to get to you. | permalink
Betty has found a true happiness with Henry and the next morning she was gone from the bed and at breakfast with her husband, laughing and smiling, leaving Don to eat his breakfast alone.
Once again we're left wondering if, when Don gets home and realizes what he has in Megan - really so similar to what he had with Betty and squashed like a tiny bug under his never-ending need for self-sabotage - he will try to make it work. Will revisiting Betty and what could have been, hearing her insight into his psyche, give him the strength he needs to accept some happiness of his own?
That it took a divorce and new spouses to finally understand each other in the way Don and Betty did while at Bobby's camp was worth the wait. I could have spent the entire hour exploring their history together and where they've ended up.
Carissa Pavlica is the managing editor and a staff writer for TV Fanatic. Follow her on Twitter.