The Pritchett clan ranks high among TV's most competitive families. In "Games People Play," we saw just how much their competitive nature can rub off on other loved ones.
Yes, this week's Modern Family divided up the storylines by family, but kept the main theme of games and competition woven together.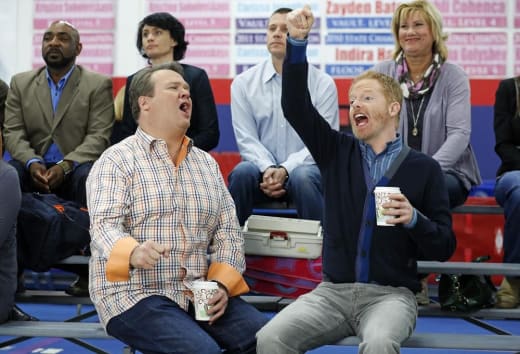 At Lily's big gymnastics meet, Cam melded naturally into the role of stage mom. He was prepping her hair, testing different moves - such as "giving your best Beyonce" - and cheering from the sidelines.
Naturally, Mitchell thought Cam was over-dramatizing a bit. After all, Lily is only five years old. However, age and achievement don't go hand in hand and as soon as Mitchell caught on to chatter of how good Lily was and saw her in action, his old competitive streak flared up.
The moral of the story is that Lily is only five and when her friend fell down during the routine she went and hugged her, which was adorable. That's the kind of thing kids should be learning! I turned red in embarrassment for the guys when they mistakenly apologized to the crowd and called their daughter a loser. Cam and Mitchell are often opposites, but at the end of the day they usually come down on the same side of an issue.
The woman who yelled at Cam for her daughter's hair falling out was a Dance Moms wannabe and should probably learn to use a brush. Did anyone else think of the crazy mom in Bring It On who was yelling that the judge's head was down for a move? Okay, maybe I've just seen that movie too many times.
Meanwhile, the Pritchett-Delgado crew were searching everywhere for Manny's backpack. Stop the presses, guys, Manny can't find his poem for his poetry reading!!! I loved that he asked Jay what man would ever write a poem on the computer? However, nothing topped the moment Jay held up the Pictionary drawing of a bunch of money and boobs and assumed it was poking fun at him and Gloria. That was classic.
On the opposite end of the competitive couple, we have happy-go-lucky Phil who just got an RV from his latest client. Phil had an idealistic dream to take the family on a cross-country road trip or up to Yellowstone National Park. Claire, being Claire, was just waiting for the other shoe to drop. In her words, "Winnebag-No." Claire thought the kids would eventually turn on each other and all hell would break loose. But with some classical music and the more mature Dunphy kids, the switch wasn't flipped as easily as she'd imagined.
Maybe I bring out the worst in them when there's no fun loving Phil around to neutralize my toxins. | permalink
Maybe Claire doesn't bring out the worst in them so much as she expects the worst from them. We're coming up now on the Modern Family season 4 finale so we've been with these characters for awhile. Dare I say that they've grown? Luke has revealed a hidden hilarious smart side, Alex knows how to let loose a little more and Haley has more compassion than we all thought. Also, Haley as a Laker girl? Um, awesome idea!
I think a bee on the loose would make even the calmest family go crazy! Great scene with Phil pulled over and meeting the other dad's whose families were driving them crazy. Let me tell you guys something: don't talk to me about bad RV trips until your dad tries to drive down Lombard street in San Francisco. It was 1985, he nearly ripped the roof off - and nobody has forgotten it to this day. 
With that in mind, it's time to gear up for next week's finale! What did you think of the latest episode of Modern Family?