It wouldn't be a true primetime drama season finale without some polarizing storylines, right? The end of Nashville season 1 was no exception.
"I'll Never Get Out of This World Alive" dropped a few bombshells, some predictable and some unseen, all set to the tune of Juliette singing in her mother's memory. And once again, Hayden Panettiere was an absolute powerhouse.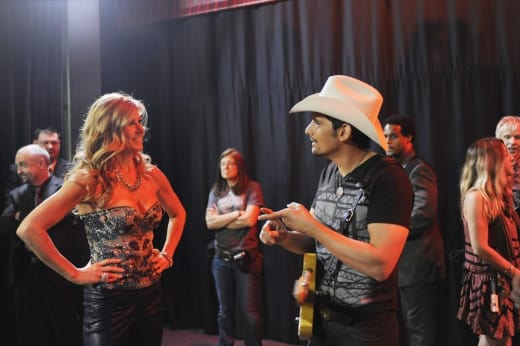 In fact, this entire season has showcased talent I simply never knew that the actress possessed. She has gone above and beyond expectations and damn if she doesn't end up with an Emmy nod. It wasn't even one standout scene so much as it was consistently excellent acting throughout every scene she had in the episode. She started off with the misery of dealing with the police's investigation of the murder/suicide and the unwanted publicity.
Juliette then moved to the anger stage and lashed out at everyone from Deacon to her old manager. Her meltdown in the dressing room at the CMAs was epic. She was mean as a snake until she finally said the words that took it too far. When she admitted part of her was "celebrating that it was all over" she knew it was time to get out of there. It was off to the funeral parlor where she had the heart to heart with Jolene that she probably always wanted to have.
I truly loved the scene between her and Rayna at the cemetery. Here you have two women who are professionally and often personally at each other's throats. But when tragedy in life intervened, they were able to connect on a real level. 
I've just been living my life knowing that this day was going to come. Dreading it. Wanting it. Hating myself for wanting it. I guess I just always thought that if I was good enough, that she would be all right. | permalink
Before I spend my entire review raving about Hayden's performance, let's move onto Rayna. Connie Britton was not too shabby herself! (Just kidding, as I only started watching this show because of her!) Major props to the writers for not dragging out Maddie's paternity secret for longer than it needed to be. She handled her scenes really well, as did Deacon. I just wish he didn't automatically relapse because it felt so predictable.
The whole Deacon relapse and car accident could be seen from a mile away. Obviously Deacon finding out he and Rayna had a daughter was a huge bombshell, but I wish there was another way to have taken the story. The second they got into the car together you just knew it was going to take a bad turn. 
Another kind of predictable cop-out was Peggy revealing she didn't testify against Teddy because she was pregnant. Of course she's pregnant! But I don't know if Teddy's the father. I don't trust that woman for a second. The one cliffhanger I totally didn't see was Gunnar proposing. What was that?!? I'm glad that Avery has been able to redeem himself and become a likable character again over the past few weeks, but Gunnar has some stuff to come back from.
I'm not even going to touch the political storyline, because I'm not sure anyone is even all that interested in it. All in all, the finale was well done and all the acting was phenomenal. I was still holding my breath at the very end, even if the car crash was a bit obvious. Now I turn it over to you guys. What did you think of the Nashville season 1 finale? What did you think of the first season overall?