Has there ever been a woman more unlucky in love than Emma Swan?  "Second Star to the Right" brought Once Upon a Time's pair of star crossed lovers together just to tear them apart once again.
But before we get to that, let's visit the fairy tale past first.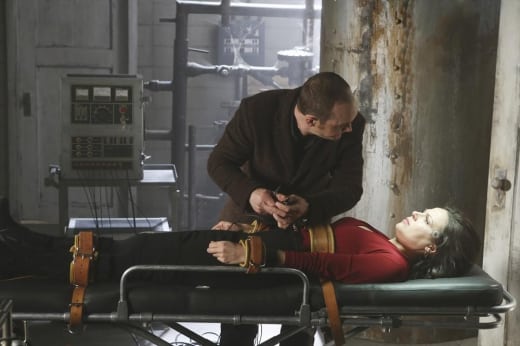 When Baelfire fell through that portal without his father he landed in 19th century London, England as a starving orphan. I suppose he found that more desirable than having the Dark One for a father. Knowing that your father can literally crush your friend's like a bug can be a little hard to live with.
Things weren't going too badly for young Bae. Being taken in by the Darlings looked like a pretty nice life, but it wasn't meant to last. 
Apparently magic followed Bae wherever he went which quickly landed him in the waters outside of Neverland. But when he escaped from the shadow's grasp to fall into the sea, wasn't that reneging on the deal he made?  Wouldn't the shadow be able to go back and snatch one of the little Darlings?  
At least now we know how Neal and Hook know one another. Hook saved him from the sea. Does that mean he became a crew member on the Jolly Roger? 
Back in Storybrooke, Mr. Gold was relishing letting his evil side show with Lacey. Did anyone else wonder why she was so interested in immortality?  She'd obviously already expected that he used magic.  Was she only hanging around to see what magical goodies she could acquire as the Dark One's mistress?  
I don't trust Lacey's motivations when it comes to anything, and specifically when it comes to her relationship with Mr. Gold. If she turns on him, the question may become whether Gold will view her as Lacey or remember that his true love Belle may still live beneath that trampy exterior.
Meanwhile Regina was being tortured by Greg. If anyone could laugh in the face of pain and suffering it's Regina. Believing she's about to die, she told Greg she killed his father decades ago and buried him at their campsite.  In true Regina fashion, she just wanted to see the look on his face when she said the words. 
But was Regina telling the truth? Was that really his body buried in the woods or was it yet another trick from the Evil Queen?
Mary Margaret was still trying to heal her blackened heart by saving Regina. As Mr. Gold said, never underestimate a guilty conscience.
The climax of the episode was all about Emma and Neal and I'm still reeling. 
At first I was afraid that Tamara's interruption on the beach would be the end of their conversation but as we found out in this interview with actor Michael Raymond-James who portrays Neal, they finally talked about their past.  And Emma got to hear some of what she'd been longing to in this Once Upon a Time quote...
Neal: There hasn't been a day that's gone by that I don't regret having left you. | permalink
Neal was completely blindsided when confronted with the truth about Tamara. He never saw it coming, but really how could he.  What sane person would think that every moment of their relationship was a lie?
For a moment I hoped that Emma and Neal would walk out of the cannery together, hand and hand but I was being naive. As they literally hung on to one another for dear life, they finally confessed that they still loved one another.
And then in a completely selfless act, Neal let go and fell through the portal to who knows where.  He wouldn't allow their son to grow up an orphan and relieve the suffering of his parents. 
Poor Emma got her happy ending for all of about 10 seconds. When it comes to love, the woman is truly cursed.
With next week's Once Upon a Time season 2 finale looming, will we ever know Neal's fate and is there any hope that Storybrooke will survive?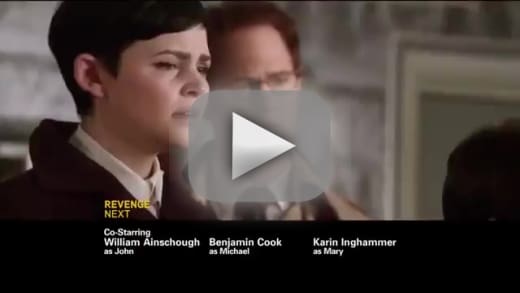 C. Orlando is a TV Fanatic Staff Writer. Follow her on Twitter.