This week, Revolution began to head right back to where it all started: the Tower.
"Clue" dug down to the hard reality the rebels are under. They can be overwhelmed in an instant; their families are constantly in danger; and they are never alone. It's a stressful burden to be under, and Nora's capture by Monroe was a manifestation of it.
No one can blame Nora for finally giving in after being drugged and tortured. Those kinds of actions will make anyone talk eventually.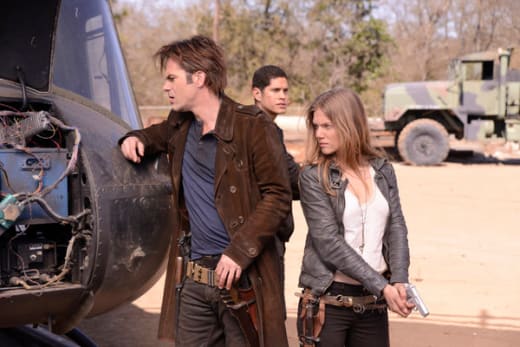 Above all, the burdens everyone faced caused paranoia and distrust to spread quickly, as all on the helicopter experienced it. Jim being the mole wasn't the surprise. The surprise was really how quickly suspicions turned toward distrust and threats of each other.
Miles is usually calm and collected no matter what the situation and he certainly tried to be so in the beginning by rationally trying to get to the bottom of the deaths. But it all crumbled pretty soon once Charlie expressed some questions of Jason's activities.
Miles is the type of man that doesn't come to trust someone easily and those tendencies play a big part is his willingness to take the switchblade bait with Jason. Even with the amount of loyalty Jason has put forth, Miles is more willing to trust Jim than he is with a man willing to break family ties for the girl he's falling in love with.
At this point, I'm also more than willing to side with the Neville's than I am with the lesser characters. The Neville family might be mostly comprised of genuinely terrible people, but it's hard to argue with their results and (mostly) solid allegiances.
Thankfully, Charlie and Tom had the good sense to stop Miles before he could put a bullet in Jason's head.
Rachel and Aaron actually made it to the Tower only to find out that Monroe's men were already there. Rachel's determination to get Aaron into the Tower no matter what has quickly eclipsed rational thought. She wants to get revenge on Monroe at all costs and she's most likely come to terms with this adventure being a suicide mission - but I had no idea she would end up taking those words so literally.
Dressing up as a guard and walking into Monroe's tent with an unpinned grenade proved how Rachel is completely off the rails. She no longer has a single care in the world aside from making sure she damages or distracts Monroe long enough to get Aaron into the Tower.
Rachel's craziness makes for some excellent television and she continues to be my favorite character in Revolution Season 1, but even if Rachel gets Aaron inside the Tower Aaron still needs to deal with the people inside.
Two More Thoughts:
The Tower is even more like the hatch from Lost now.
Because Grace's guard was killed by something does this mean the prisoners have taken the Tower back from Flynn? Where they the ones watching Flynn try to open the door?