Rachel's suicide bombing plan certainly didn't have the outcome she wanted in ""Children of Men," as she ended up giving Monroe access to the Tower.
In a world trying to make the best of it without power, this location is as close to being God as humanity can possible get to.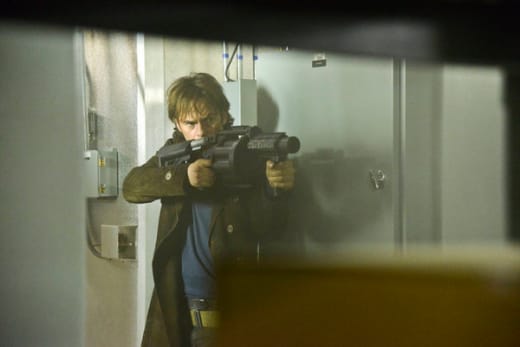 Throughout Revolution Season 1, Rachel has shown doubts about the stability of their project, and, because of the blackout, here doubts were well founded. So much of Rachel post-blackout is explainable by the guilt and remorse that eats away at her; the death and bloodshed following the blackout is felt on her hands - and turning the power back on might be the course of action she needs to ease her emotional pain.
The people that sealed themselves, and their children, inside Level 12 have tasked themselves with making sure the power never turns on because of a small chance of the entire world being set on fire. So one hatch in the ground prevents the world from burning up and another to discharge the amassing energy.
While the hatch from Lost is similar to Revolution's Tower, the difference is that hatch brought about interest and furthered the story in unique ways that brought more life to the island. This Tower just throws a wrench in the adventure for the sake of it. Rachel can turn the power back on, but flipping the switch has the potential to set the earth on fire.
WHAT?
It feels completely constricting to the storytelling. The show can take an interesting curve by turning the power back on... or setting the earth on fire is a constant lingering doubt that hovers over the series. That lingering doubt doesn't feel genuine, though, as Monroe has been traveling over a good portion of North America with power and no fire to be seen.
Even with Tom's escape from the militia, he is still quick to figure out what is happening from the inside after his capture. All he needs is a little mutiny to get what he wants: a Monroe-less Republic. With Monroe very likely running closer and closer to his death in yet another showdown with Miles, Tom is easily one the best candidates to take over.
What are your thoughts on Revolution's penultimate episode? And what do you expect to go down on next Monday's finale?