"What Part of No" is something that somebody should be asking Riley. I realize since the entire show is about the list, Riley's not giving up the business any time soon, but someone has to start giving her good advice. When your friends and family are in the line of fire, it's time to question your day job.
As soon as Lacey fell onto the ground  clutching her abdomen, I knew she was pregnant. That was clarified when they held her in the hospital overnight for something nobody in real life would be admitted for and then, finally, in words. Good for her and Dale. Yay!
Not so positive is that Riley's hooker job cost her best friend what might be her only chance to have a child. If Lacey has time to process that it was Riley's fault that she lost the baby, she might not be in the best frame of mind to have her friend's back while she engages in criminal activity anymore. At what point do you stop enabling your pal when everyone around them is getting hurt because of what they are doing?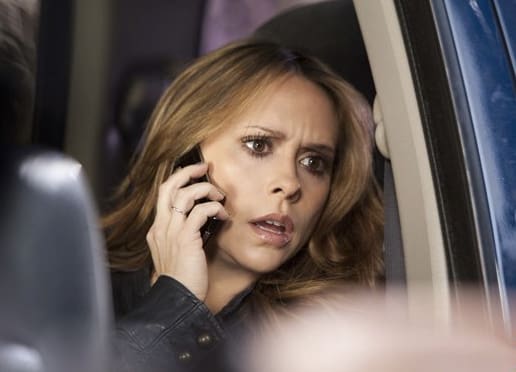 Every time I watch Riley in her nighty at The Rub lightly flicking away at a client before gives him a handie, I imagine what Kyle will do when he finds out what she does. How, in any part of this dream world she's floating around in, does she think this is going to end any way other than badly? Kyle said once that the thought of her with another man killed him. If he knew how many men she was with every day, and figured out he was the one who drove her to do it - he'd hate her and himself.
Riley is also using Evan to a ridiculous degree. He's barely been a cop for a week or so, and she already had no problem printing and stealing documents from his machine. What happened to this woman? She's starting to turn into Nancy from Weeds. Next season she'll probably have a client's baby and start selling drugs out of The Rub.
I just don't understand where The Client List is going. Yes, it was very romantic that Kyle took Riley horseback riding. But he's also the man who forced her into a life of prostitution to keep their family afloat. There is no romance in that story.
The only other story of note was the rivalry between Selena and Nikki over Derek. I was disappointed in Derek for taking Nikki up on her fun buddy proposal, because they portrayed him as more caring than that to start. The episode even ended with him in that vein as he was his own mother buying back Selena's virginity bag from Nikki to return to Selena.
It feels like the writers are struggling with character this season. Character motivation is all over the map and inconsistency makes for unhappy viewers. It doesn't seem like any of us have been all that happy with how easily Riley dropped Evan and took back up with Kyle. One week it was an important storyline and the next it was barely a blip on the radar of the script.
Let's use this example to close out the review. Both Riley and Kyle confronted someone over the break in at her house. Neither had a clue why the person broke in, but both had suspicions. Based solely on suspicion, Riley should have stayed away from the client list. She buried it somewhere nobody could possibly know. BUT if they were onto her, they could ruffle her feathers and start following her to see where she was hiding it.
That's exactly what she did. She fell right into the oldest trap in the book. How in the world would anyone have known to go to her mother's farm and dig in the exact spot she put it? Yet she felt compelled to drive out there in the middle of the night, after threatening unknown people who may be onto her or her husband, dig it up and hug and kiss it.
Frankly, Riley deserves to be caught at this point. What say you all?
Carissa Pavlica is the managing editor and a staff writer and critic for TV Fanatic. She's a member of the Critic's Choice Association, enjoys mentoring writers, conversing with cats, and passionately discussing the nuances of television and film with anyone who will listen. Follow her on Twitter and email her here at TV Fanatic.