The Secret Life of the American Teenager Review: Too Young
Leigh Raines at .
The only thing that's more annoying lately than logging on to Facebook to see another five engagement announcements is the constant talk of marriage on The Secret Life of the American Teenager.
The only saving grace (no pun intended) in "First and Last" was the fact that I think some of this cast is finally starting to realize that "marriage" and "teenager" don't belong in the same sentence.
It's like this show went from being the scripted Teen Mom to something on the Wedding Channel.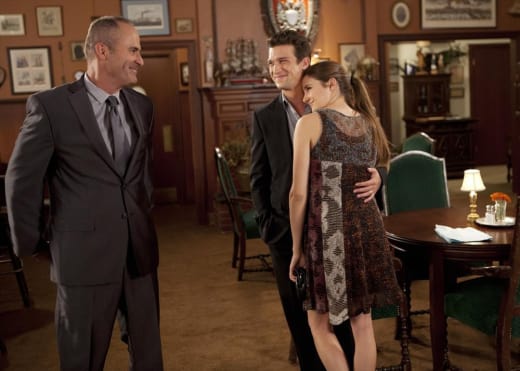 Without even bothering to get into statistics about marriage and age, let's focus on the many outstanding scenes that demonstrated Amy and Grace's reluctance to get hitched. I think Amy is truly 50/50 on the whole thing. She looks really happy in the above picture with Ricky. She loves Ricky, she loves John and I believe that some large part of her does want to marry Ricky.
However, another large part of her has a dream to go to Hudson University.
I'm not sure what the deal is with the summer school program and why she would even need to go if she got early admission, but it's something that Ben obviously pointed out has shady timing with her wedding date. She and Ricky need to talk. More emotion was expressed in that last scene between Amy and Grace than I've seen in a long time.
Those weren't tears of happiness shed by two best friends who are excited to become stepsisters. That scene was about two girls going through a similar experience, commiserating and leaning on each other. Grace and Amy were never besties. However, between the end scene and the lunch scene when they told Kathy she should just be single, it's obvious the two are having the same doubts about changing their marital status.
Grace full blown admitted that marrying Jack was going to ruin her life while she was having an epic meltdown to Grant in the hallway. There's no better wake up call than seeing an ex who managed to snag and live out your dream. Grant is going to Harvard, Grace isn't. Then she propositioned him in the middle of school. Oy!
You're trying to get out of marriage with a doctor's note? Grace, marriage is for grown-ups. That's not exactly a mature approach to a life decision. | permalink
Grant managed to express my whole point in that one sentence. Marriage is for grown-ups. Yes, Amy is a teen mom so she is a lot more grown up than other 18-year-olds. But the bottom line is that Grace is not ready at all and it's not fair to put Jack - or Ricky for that matter - through a miserable marriage. These kids are way too young to all be engaged. Adrian and Omar seem like they could have a bright future ahead as long as they stay on the same page. Ben...well, I don't know what is up with Ben these days.
Ben has become almost as uninteresting as Kathy and Ethan. I'm sorry to say it, but I fast forwarded through some of their scenes tonight. Like I've said before, this show is ending in about six weeks, why are we focusing on new characters? It seems trivial. What do you think?