Vemotus kravis an adenum...
Oh, Bonnie. You just had to utter those words, didn't you? You couldn't leave well enough a stone... bid farewell to Jeremy... and find a new love who looks slightly worse in a wifebeater, could you?
And, as a result, you are now a member of "The Walking Dead."
That, TVD Fanatics, is what we call one shocker of an ending.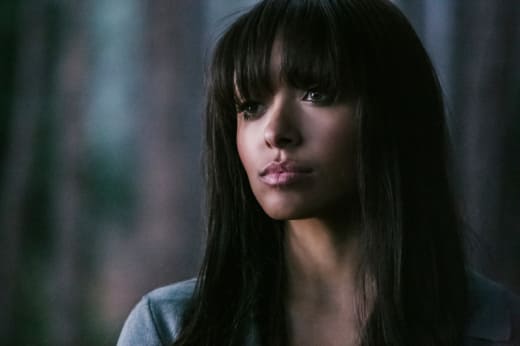 Is Bonnie really a goner? It would certainly appear so, unless events on the Season 4 finale result in some more un-Veiling and she gets resurrected via the sometimes confusing and frustrating universe that is The Vampire Diaries afterlife.
Don't you dare get me wrong: I loved the return of Alaric. No, really. I loved, loved, loved, loved seeing everyone's favorite bourbon-swilling history teacher back in Mystic Falls, sharing BFF moments with Damon and once again playing the role of reluctant hero.
And Lexi? And Jeremy? And... ummm, Kol? I guess? Almost all welcome appearances.
But it's a fair criticism of this show that it can't leave the dead buried. Or in Ghost World. Or whatever they're calling it these days. It's hard for emotional scenes to stick when we're fairly confident we'll see the supposedly deceased character again at some point.
And with The Originals stealing away a few Vampire Diaries cast members, and with Bonnie's powers seemingly endless, we probably don't need to pen any obituaries just yet.
Spoilers have also revealed that at least one of the returnees we saw tonight will stick around for good this fall. Who will it be? Who do you want it to be?
ELSEWHERE...
Damon has The Cure. Will he give it to Elena? Pour it down the drain? Use it to kill Klaus? Consider this my first finale prediction: Damon will somehow end up drinking it and the final scene of "Graduation" will be of a human Damon Salvatore.
Three of The Five are back. Hi, Alexandar. Greetings, Connor. What's shakin, Vaughn? They have their sights set on Silas, but in a less fearless finale prediction, it's not hard to see how their arrival will prompt Rebekah to run away. I hear New Orleans is lovely this time of year.
Elena has rediscovered her humanity. All of her humanity, not just those parts that want to feast on Katherine's insides. This arc has been a great showcase for Nina Dobrev. It's been a refreshing distraction from the love triangle and sire bond nonsense as well. And Elena is also really good at darts. Prediction number-three: Elena will spend the summer trying out for The American Darters Association.
Staroline Alert! Clefan Tease! Potential Couple in Need of a Nickname Warning! Within five minutes, Lexi picked up on what Stefan and Caroline were putting down. Yes, the latter must say goodbye to Klaus next week, and Tyler is still sort of around we suppose... but will The Vampire Diaries Season 5 actually go there? Staroline seeds were definitely planted here. Prediction number-four: I'll be ever so happy if those seeds are allowed to fully grow.
Overall, a terrific penultimate installment.
The last few weeks have seen Bonnie take center stage, which is far more preferable to the ways in which her powers have been used as a storyline pawn in the past. The final scene and closing words (I'm dead) were legitimately startling, while the return of the hunters and the revelation of Silas' true identity - come on, no way they don't follow up on that nugget, right? - leave plenty of finale possibilities.
Oh, and... ALARIC!!! Pardon me while I go jump for some more joy and sound off now: What did you think of "The Walking Dead?" Is Bonnie truly about to rest in peace? Will Matt get some from Rebekah before she leaves? And what are you most excited for on the finale, previewed here?
Matt Richenthal is the Editor in Chief of TV Fanatic. Follow him on Twitter and on Google+.