After my complaints last week, Two and a Half Men went ahead and proved me wrong on the Season 10 finale, cranking out a terrific episode.
It had everything: Walden finally acted like a mature individual, Alan acted like a responsible father and even Berta grew emotional. That's a very unusual sight.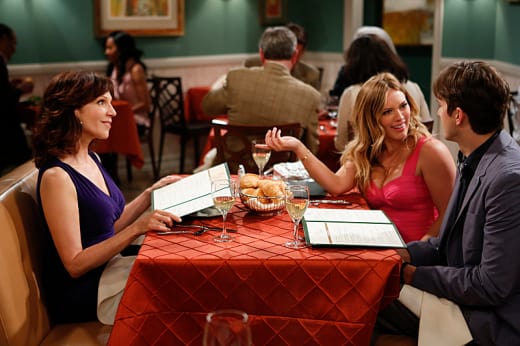 "Cows, Prepare to Be Tipped" made the viewers painfully aware of one thing as well: we are all going to miss Jake. Like I have said countless times, the show is so much better with him around; it's just a shame that his character has been reduced to a recurring role in the fall.
However, before departing for Japan, Jake gave the audience a lot of gems, from his misunderstanding of sushi to his fear of Godzilla. Check them out now in our Two and a Half Men quotes section.
Elsewhere, Walden finally dated a woman who was as intelligent and smart as he is... granted, she was also a grandmother. Still, she is a huge step up from all his exes. I hope that when the new season rolls around, Linda (Marilu Henner) will become a permanent fixture in his life. Even her daughter was happy she was with an older guy.
Alan and Berta both acted in ways that completed surprised me. The former rose to occasion and decided to bond with his son, which yielded some very good results, as Jake realized his dad was not to blame for the divorce.
Berta actually teared up, proving that she belongs with the rest of us who will miss Jake.
So, the season has ended and although it had it low moments, the series really grew and furthered the development of its characters. Let's just hope that the summer break will even give the writers more ideas on how to make the sitcom even funnier.
And don't worry Jake, Godzilla is not real.