On Army Wives this week, the recently returned soldiers were getting reacquainted with home life, while Denise hit San Mateo with Dr. Seaver to help earthquake victims on "Damaged."
Nobody really got out of the episode unscathed in some way.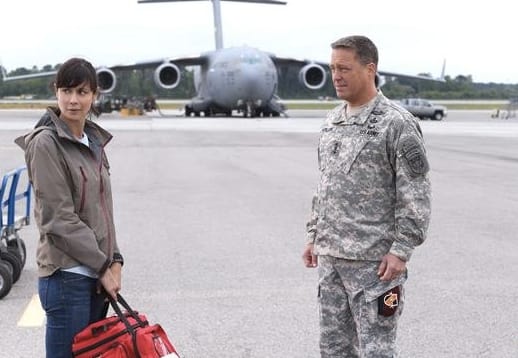 It was nice insight into Eddie's character to learn about what Ethan Green, who didn't make it back from Afghanistan, thought about him and how he looked up to him like a brother and a mentor. 
Hector also got to show his growth as he shook the life into Tim after he finally broke during the memorial for Ethan Green. Holly never understood exactly what Tim was going through, but when he cracked and cried, it was pretty apparent that sending 18-year old boys to fight our wars is questionable. They simply aren't prepared for the Ethan Green outcomes. 
When you think back through history, during the World Wars and even Vietnam and the Korean wars, the U.S. hadn't yet changed the drinking laws to age 21. While I realize it's a silly thing to think about in the scope of all that's at stake, we're essentially saying you're old enough to protect your country but not relieve your stress with a beer.
That's why Truman tossed his cookies last week. He's somewhere between a boy and a man, but really neither one yet. It doesn't seem fair. I have no idea what could be done about it, but maybe if the boys who went to fight felt more like men, they'd be better prepared for the hardships they faced afterward. Tim's too young to save the world. And, from what Hector said, if it wasn't for Tim, they would have all died over there.
Unfortunately, a talk isn't going to do the trick for Tim Truman. His PTSD is beyond the help of friends and fellow soldiers, and if Holly doesn't demand he seek help, there could be a time when she doesn't live through the night. That's pretty heady stuff.
It was really well written how gently they introduced Denise and Kat to each other. There was a possibility that given the obvious looks that Michael gives Kat, Denise might feel off seeing them together. But having met Kat and gotten to know her before seeing her with Michael helped mitigate that... and might possibly even help. The subtle way Michael told Kat he was interested in her was equally as appealing. It just feels right.
It was no surprise that someone would come to the aid of Gloria when The Hump Bar caught fire, and it turned out to be Patrick. He's trying to win Gloria's heart and so is Hector. While Gloria is saying yes to dates with Hector, it seems she's doing so out of a feeling of obligation instead of attraction. I don't think that's going to end well and I wish she'd rethink her choices where he is concerned. After the party, certainly she can see he's been through enough without her adding to it.
We only got the briefest touch upon Joan's decision to retire and something felt a little off about it. I'm wondering now if something might happen to make her change her mind. Even though she seems entirely happy and at peace with the move and the idea of being a track coach like her own mentor, it just doesn't feel like she's on her way out. More likely it's wishful thinking on my part, not wanting to let go of the past again.
Truly, I'm happy with the cast. It's solidified and next season should be just about perfect now that we know everyone and where they fit in the scheme of things. By then, Frank and Kevin should be back from the field and we can get some grown adult and some young adult story lines in equal doses, and get more of the mentoring into place, which was done so well in the past.
I can't believe next week is the season finale. It feels like Army Wives Season 7 just started and it's already over. I think I liked the longer seasons better. Maybe we'll get a longer one next year. Fingers crossed.
Carissa Pavlica is the managing editor and a staff writer and critic for TV Fanatic. She's a member of the Critic's Choice Association, enjoys mentoring writers, conversing with cats, and passionately discussing the nuances of television and film with anyone who will listen. Follow her on Twitter and email her here at TV Fanatic.