After months of hearing about it and even getting an early peek at the pilot, we're finally going to dive into the intense, often dark world of USA's new crime drama tonight, as Graceland premieres at 10/9.
From the mind of Jeff Eastin, the man behind White Collar, the series focuses on a group of six undercover FBI agents living together in a safe house called - you guessed it - Graceland.
But who is who and what are the various relationships? With the help of the Graceland cast, we'll help you sort it out before jumping in head first this evening...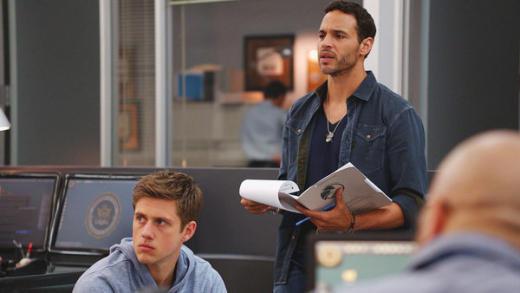 Paul Briggs (Daniel Sunjata): Briggs is a legend in the FBI world but that doesn't mean he's got his life together. "He's got kind of a surfer-slacker-Bohemian vibe," Sunjata said from the set in Miami earlier this year. "Yet when it comes time to take care of business, he's absolutely all about it, and he always gets his man, so to speak."
And you can expect things to get even darker for Briggs, which Sunjata was excited to talk about: "Nothing is as it seems in Graceland. We set the tone with the pilot and with the first episode and then from there threads start to unravel and you start to see what's going on in the underbelly of the ship. And yeah, everybody's got secrets."
Mike Warren (Aaron Tveit): Mike comes into the house as a newbie fresh out of FBI training and will have to fight hard to keep his head above water. "That's the other thing that I really loved about Mike is [that] he's a brilliant agent and he kind of has no field experience," Broadway vet Tveit said between scenes. "I thought it was very interesting to see how all those things are going to come together, and I just was instantly drawn to it."
The job itself will be tough but so will his relationship with the more seasoned (and mysterious) Briggs: "I think that Mike is on one side of the line and Briggs on the other side and as we kind of grow together, I think we almost learn from each other to grow towards the middle of it, but we're really still on each side of this line."
Catherine "Charlie" DeMarco (Vanessa Ferlito): Charlie is one character whose biggest problem could be shaking her undercover identity from her real life. "There's drugs and, you know, the life of an undercover FBI agent is really dangerous and really intense and you really don't have much of a personal life. This becomes your whole life."
But Charlie won't be the only one having to navigate the dark side of undercover life. "Everybody gets in too deep," she teased. "If you keep going in harder and harder with these people you're playing with fire, you're putting your life on the line, you're going to get in too deep." Watch for Charlie and Briggs to go deeper than maybe either of them should in the first season.
Dale 'DJ' Jakes (Brandon Jay McLaren): Jakes' expertise is the import/export of illegal contraband but we'll see how living this life can be more than a little difficult. "You really get a look into Jake's personal life outside of the house," McLaren previewed. "There's a big story line with that and how what's going on in the house really takes a toll on him trying to hold together his life outside of the job... what makes Graceland great is that it's really about not necessarily the job but how the job affects the person, the character, which I think is really cool."
McLaren did say his experience is very different than it was on the first two seasons of The Killing: "Because the [AMC] show was so moody, that mood at times definitely sort of transferred over to like the set…but this show, I mean, we have a great time."
Joe "Johnny" Tuturro (Manny Montana): If there's a light force in the house, it's Johnny; and Montana said that while his character knows his way around an undercover assignment, he might not have the same prowess with the ladies. "They try to make him out to be this ladies' man and he's not," the actor revealed. "Aaron has, like, three hot women, the guest stars that come in and out but no I don't have really a love interest."
But Montana hinted that viewers should watch for an episode where Johnny crosses paths with a past love who, if the actor has his way, may not completely be in the past.
Paige Arkin (Serinda Swan): We don't meet Paige until the second episode but, as Swan explained, "I think her thing is, and part of the reason why I wanted to play her, is she's pretty light. And they give her a good sense of humor but at the same time, she'll kick your ass, which I was like, 'oh, that sounds like a fun female character to play.'"
And while the world she's working in may get dark, Swan promised that Paige is, "the girl that'll come in and listen to your problems and then smack your ass and wink at you and be like 'get back to work.' So she's got a very fun personality which I love, which I was completely drawn to."
Jim Halterman is the West Coast Editor of TV Fanatic and the owner of JimHalterman.com. Follow him on Twitter.