A federal government job never looked this good.
But leave it to Jeff Eastin and company to deliver a hot pilot just in time for summer. Nothing says summer life sun, surf and beach houses, right? And Graceland has all three.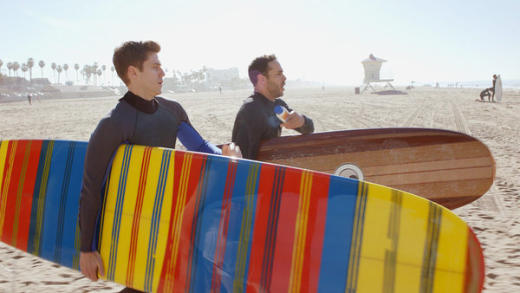 Eastin has created another federal agent-based drama that draws you in and doesn't let you go till the credits, and even then, you're still wondering what will happen next.
Special Agent Mike Warren was expecting to be assigned to the Federal Bureau in D.C. But before he could, he was reverted to an emergency assignment in California where he lives with five other housemates in a seaside villa known as Graceland. This isn't training day, this is D-day - and from the moment he steps into the house, Mike is immediately immersed in the undercover life, while still managing to navigate the challenges of living with five diverse individuals.
One thing is for sure: if this installment was an indication, things will never be boring at Graceland. From the comedic relief Johnny provides... to Lauren's refusal to accept the new guy... to Charlie's quite compassion and support for Mike, it seems there's still a lot to learn and a whole season ahead to learn it.
Perhaps like most of you, I was inexplicably intrigued by the bombshell dropped in the last two minutes regarding Mike's assignment to investigate Briggs. Clearly Briggs colors outside the lines, and his decision to shoot the hitman without any proof he was armed was a little much for Mike to handle in the moment.
Cleverly, Mike now feels he owes Briggs for saving his life, even though he's now charged with investigating him. The purpose for which Mike has been charged with investigating Briggs has yet to be revealed, but I'm sure it won't be long before the bits and pieces of that come to light.
Maybe my favorite part of the pilot was the fact that Briggs' fake movie kept coming up throughout the course of the hour, whether in casting roles on the spot to Mike actually utilizing the characters and their back stories to get him out of the different situation he found himself in. From being married to a prostitute, to making his alter, Frankie Bout, the man who shot someone on the toilet, he's quite the quick thinker.
I can't say enough about the talent and drama this pilot exudes from the very beginning. It makes you wonder how so much content and character development can be compacted into a 43 minutes of run time. I will definitely continue to tune in and hope you all will too.
Other highlights from the series premiere:
Mike trying on flip-flops for the first time.
Charlie giving Mike one of Donny's spare keys.
Mike inheriting a truck-worth of counterfeit Levi's, then being nicknamed after them.
That adorable dog that keeps following Mike around.
The DJ/OJ incident.
That adorable woman on the plane teaching Mike the phrase "Manos arriba," even after he fibbed about going to California to be a teacher.
What did you think of the premiere? Do you have a favorite character yet? Sound off below and grade the Graceland opener:
C. Charles is a TV Fanatic Staff Writer. Follow her on Twitter.