I think we can all agree that by the end of this week's Graceland, none of us were reaching for a "Pizza Box."
From the 1,000-year old story of Francesca and Nicolo to the abrupt suicide of Bello's right hand man, there was a lot the audience was left to digest.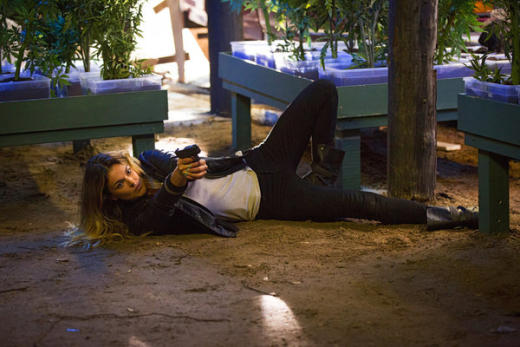 One thing that had me scratching my head about this episode was its complete lack of any references to Mike's mission to investigate Briggs. It seems we've lost the storyline every other week since the show began.
While I don't think it's necessary to harp on this plot all the time at length, addressing it does provide some level of continuity for this very new show. I think the concept of mentee investigating mentor has some real potential, especially with Jeff Eastin at the helm.
There is one aspect of the Bello and his enforcer relationship that seemed, at least to me, to mirror the relationship that Mike currently shares with Briggs. Bare with me a moment while I parse this out and see if you agree...
Mike and the enforcer are both at the right-hand of what could be perceived as very powerful individuals and at the same time occupy very tenuous positions. The enforcer's only insurance is his loyalty to Bello. We saw what happened when he lost that bit of capital, and at the hands of Mike and Briggs, when they successfully trick Bello into thinking he has an internal problem.
This week we saw the true consequences of that compromising position, and Mike found himself admitting to Briggs that he wanted to keep his eyes. Mike has seen what happens to people who cross Briggs. Lauren's hastened departure is evidence of that. But even then, the investigation that Mike is charged with conducting has even more dire consequences due to the fact that his orders jeopardize Briggs himself. One can only imagine the kind of position Mike could potentially be in if his cover is blown.
Then again, I could just be reading too much into it.
Another thing I wondered about was whether or not they planned to address what happened with Lauren last week. Has she already left? I guess it doesn't matter, since we already have a full host of characters to keep track of. Yet I can't help but think this isn't the last we've heard from Lauren nor Danny. We'll just have to wait and see.
What I enjoyed most this week was the partnership between DJ, Johnny and Paige. I wanted, clearly, to kill Johnny for pursuing Ashika - I really hated her character - but I suppose all can be forgiven when he came through in the clutch with that trash can.
I suppose without his actions we would have never seen Paige's diversion tactic skills. I really liked the truck-crashing-into-barn move. It was gutsy and effective. Plus, it gave her a chance to exhibit her excellent, though expected, marksmanship.
C. Charles is a TV Fanatic Staff Writer. Follow her on Twitter.