"Final Cut" introduced us to new Deputy District Attorney Rios. What a way to bring in a new character.
After the end of the first season, when viewers were brought to tears of happiness via how the story of Rusty ended - with him being an official orphan - her calling him a "Whorphan" was not endearing.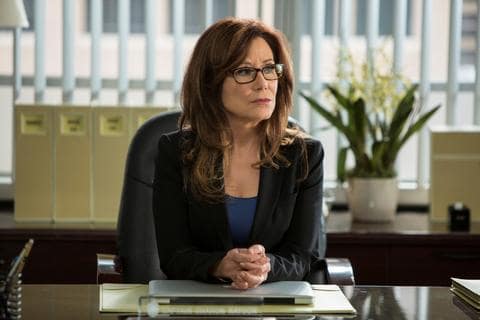 That Rios was also somehow finding her way into other crimes outside the Stroh case and bumping heads with pretty much everybody - and with a damned annoying attitude to boot - was a recipe for disaster. Even Chief Taylor had to read her the new rules of major crimes when it comes to getting convictions (i.e., making deals!) versus putting people on trial. The girl had ants in her pants and I just wanted to shake them out of her.
But, gosh, did it bring out the mother in Sharon Raydor and protectiveness of "the uncles" in the rest of the division. My favorite part of Major Crimes is the new family they've developed on the show. Watching them stand up for one another against all else was very gratifying.
The juxtaposition of Rios trying to demand that Sharon release custody of Rusty to foster care and the creepy director who was such a horrible father that his ex-wife killed his current wife just because he was having another child was a really sad state of affairs.
The attempt to make Rios seem even mildly empathetic when he was stuck with his kids full time and she wondered how they would end up didn't work for me. Because they were kids of a director they were somehow more important than a "whorphan?" She still wanted Rusty, a good kid in a horrible situation, put into the foster system. She has a lot to overcome from her introductory episode.
I completely understood Rusty's frustration and unwillingness to cooperate with Rios in the Stroh investigation. He was right that as a victim he shouldn't have had to have such horrible things about his own life come to light in order to testify and do the right thing. But that's how our justice system works. Victims have no rights. Their lives are left wide open to tear apart and use as fodder to try to get the suspect freed. The suspect's life, on the other hand, is closed. What a shame that Rusty had to learn that at such a young age because of what his parents didn't do for him.
It was so touching when Rusty finally decided to talk to Rios and asked Provenza to tell Sharon it was all his idea the do it on his own and why he should be alone. Whatever happened with Rusty and his "dates" was so God awful, even after all the time that passed, he couldn't let them hear about it from his lips. Even as comfortable as he is, and with all the love he feels, a part of him believes that in hearing what he did they would find him disgusting and push him to the curb. To think that real kids do those things every day just saddens me to no end.
So if the Stroh case is going to move forward, do you think we'll see Billy Burke reprise his role as Philip Stroh while Revolution is off the air? Perhaps this is the season we'll see Kyra Sedgewick make an appearance as she delivers testimony or has a reason to visit the major crimes division. Either way, I have really high hopes for this second season. Honestly, the first season set a very high bar of success to meet, but I really think this well oiled machine can do it, even with the presence of the new DDA.
Until next week, check out some thoughts on Major Crimes Season 2 from a recent set visit, and share yours in the comments!
Carissa Pavlica is the managing editor and a staff writer and critic for TV Fanatic. She's a member of the Critic's Choice Association, enjoys mentoring writers, cats, and passionately discussing the nuances of television and film. Follow her on Twitter and email her here at TV Fanatic.