"Under the Influence" was my favorite episode of Major Crimes Season 2 so far, as it showcased some of the characters who don't normally enjoy the spotlight.
Detective Sykes even got to do a little flirting. I can remember when she was one of the least liked members of the squad... and now she fits like a glove. How time flies!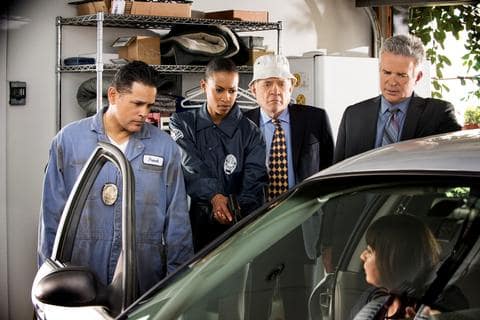 It's been a long time (if ever?!) that we've seen Tao and Sanchez have a Provenza and Flynn-style comedic scene, but we were treated to one as script writer Jason Andrews was doing a ride along with Tao and Sanchez in the opening few moments. I loved Jason asking why Sanchez wasn't wearing his seat belt, because it's a law, right? But Sanchez says he needs to get out quick in case of gunfire. But no, not you Jason, because you signed a release for gunshot wounds, not car crashes! 
Jason Andrews was a really great guest starring role by Ben Feldman, who has been in Mad Men this season and formerly of Drop Dead Diva. Since Tao is consulting on his show and he and Sykes hit it off, I hope they bring him back a few more times. He added something different with each character he interacted with, even helping Rusty with his essay when everyone else was busy, and that's a lot more than I can say for other characters to hit Major Crimes this season.
It took me about 30 minutes to realize why this episode was so damned pleasurable. It wasn't until the mass pile of bodies was found and they had some real evidence on their suspect and DDA Hobbs made an appearance. No DDA Rios! Oh, thank you Powers That Be for giving us a break for her mind-numbing idiocy. 
Hobbs may not have been the growling pussy cat that gets men to fall at her feet, which would have been handy with the particular group major crimes was up against, but she also wasn't willing to step back and let the defense have their way in a deal, either. 
I really liked how they managed to get Rusty into the fray with his requirement to write a story about someone influential to him and how he fought the idea of writing a paper about his mother, while the main suspect in the heroin/murder case was being influenced in much the same way by his own mother. 
It's strange to see an adult man so whipped by his mother, but Rosa Vega was one scary bitch. A lawyer in Mexico, she thought she had a thorough enough understanding of American laws to skirt under the radar and, essentially, get away with murder.
She'd obviously never run into a group of detectives as dedicated as our major crimes division and while she was telling them to ship her own son back to Mexico and into the hands of the Federales, which would have meant certain death, they were finding evidence to get her that very deal.
Only this time, her son got life in the U.S. prison system and she was sent back to Mexico to face what she wished for her son. Karma is a bitch, just like Rosa Vega.
Carissa Pavlica is the managing editor and a staff writer for TV Fanatic. She's a member of the Broadcast Television Journalists Association (BTJA), enjoys mentoring writers, wine, and passionately discussing the nuances of television. Follow her on Twitter and email her here at TV Fanatic.