There are a lot of unhappy people on Switched at Birth and we saw much of that exposed on "The Good Samaritan."
As Bay fought to keep Toby from a lifetime of unhappiness by marrying Nikki before they were ready, both Regina and Kathryn were struggling to find a place they could feel comfortable without the pressures of life weighing down upon them. And that was just the tip of the iceberg.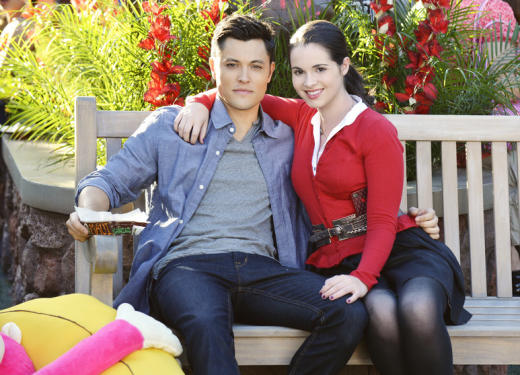 At the forefront of the episode were definitely the concerns by pretty much everyone involved about whether or not it was a good idea to keep their mouths shut regarding Toby marrying Nikki. Even Toby himself admitted he felt like a robot at work, indicating he wasn't having the time of his life, telling Bay that having a job and being mature came with marriage. 
But I have to wonder, just how mature do two 18-year olds have to be to get married? I'd say just enough to pay the bills and be faithful to each other. They shouldn't stop enjoying life or growing into the adults they will become - and they are most assuredly not the people they will be in 10 or even 20 years time. When Bay saw Toby selling his music equipment, she went to Emmett to get his opinion and learned they hadn't had a gig in months. 
That's a huge red flag when it was the first common interest that brought Nikki and Toby together. It was their joy of music that spanned the gap of everything else, including the huge difference in their religious beliefs. With so many things factoring against them, and now Toby turning his back on Bay for sticking her nose into his business, if Nikki and Toby lose their shared interest in music, I think they will lose each other.
Kathryn and Daphne were still reeling from the loss of Regina, but in much different ways. Kathryn discovered that Adriana was back and missing the company of her daughter, so she started hanging around with Kathryn. I knew it was going to go wrong, not because of anything that Adriana was doing but because Kathryn's own mother was down her throat about the wedding and blaming her for things out of her control. Since she couldn't take it out on her mom, Adriana got the shaft. It was nice that she and Adriana came up with something they could so together, such as plant an herb garden.
Daphne was not only missing Regina, but angry that Regina felt it was easier to live with Bay because her expectations were lower than Daphne's. To take her mind off of things, Daphne decided to flirt a little with Jace, the hot British coffee dude, and tried her hand at geo-caching. She was so shocked that he had proven her wrong at his ability to quickly learn ASL that she had to give something he was into a try. Even though he said he wasn't into dating that summer, when she cracked and told him about her mom, his feelings for her were written all over his face. As were Daphne's lips when she planted a kiss on his! 
Regina seems to have really gotten things right this time, and offered to work for free for Whitney, the designer she was working with when she fell off the wagon, just to prove it. Seriously, if anybody could drive Regina to drink, it would be Angelo. OCD much? He actually said they were living in squalor because dishes were left in the sink over night and she had a pair of shoes in the hallway.
When Bay came home from work unhappy and slammed the door, he thought their family was falling apart. To think that poor man thought he was ready to raise an infant. What would he have done if it had spit up on his shirt? Called social services and reported his own baby for misdeeds? 
Bless him for trying, and at least Regina set him straight. He thought all of them living under the same roof was their second chance and it would be perfect - how it was "supposed" to be. She had to tell him that they were living it as it was supposed to be. Dishes are left in sinks and teenagers have teen drama. Regina said she would move back home when she got the job, but I really hope they all stay together a while longer. I think they still have a lot to learn about each other and being a family, and as hard as it is, there is some good coming from the familial separation.
THERE WAS A MIRACLE!! Check out this Switched at Birth quote:
Daphne: I've just been kind of jealous of you getting closer to my mom.
Bay: Welcome to my world. | permalink
That's right. The hour ended with Daphne and Bay talking like actual friends! I know, I was caught off guard when that happened. Daphne even shared the kiss with Jace with Bay who told her he also happened to be British and they tittered like schoolgirls. Maybe this was what they needed all along - to be put in each others shoes to see what life would be like if they hadn't been switched.
Granted, they still have quite a way to go to understand that, but it seems like a good start. 
Carissa Pavlica is the managing editor and a staff writer for TV Fanatic. Follow her on Twitter.