Lately, when I watch The Client List it takes almost all of my effort to suspend my disbelief that Riley can walk around without freaking out nearly every second of every day.
In "When I Say I Do," the walls were literally closing in around her and she was just jumping around having a good time. How in the world does someone do that?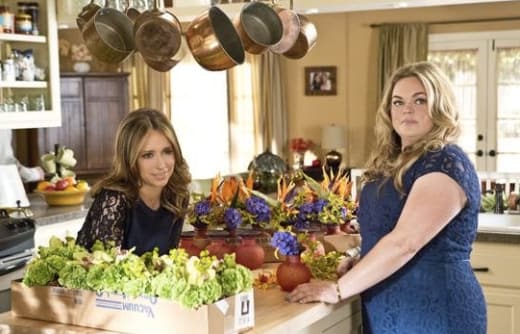 Riley and Lacey were preoccupied with Georgia's wedding, so they were missing a lot of life's regular signs. Lacey forgot her own anniversary and Riley was ignoring warning signs, such as Kyle's hidden insecurity about her potentially owning The Rub and not paying attention to Evan and what cases he was working on. Very important cases relating directly to her line of work.
No matter how hard I try, I can't get over the thought, every single week, of how dangerously Riley is playing with fire. I'm imagining the last minutes of the finale going a couple of different ways, neither of them pretty:
She'll  be in a orange jumpsuit after being arrested by a man who loves her or...
 ... she'll be on the other side of her own front door, after Kyle has locked her out of her own house to protect his children from the whore who has been raising them.
With every good deed Kyle does, and the more angelic they make him, the more I know he's going to hold her feet to the fire for her immoral and criminal actions when he discovers her secret. Does anyone disagree? He was hurt that she didn't share with him that she practically owned The Rub. That's nothing in light of the rest of the story.
With as well as Lacey knows Riley and Kyle, why doesn't she see it and warn her friend? Didn't she overhear conversations between Dale and Evan that he was doing stings on massage parlors? When are their worlds going to intersect?
Other than the fact that Evan is Kyle's brother and helped Riley for a year and we all wanted them together, his inclusion on the show is boring now. Who wants to watch him fall in love with Shelby while Riley forgets she once loved him, as well?
Both Evan and Linette feel like they are just there because they have contracts at this point. It's a huge change from last season and a bit disappointing. They should be more than props.
Once again, the most realistic and interesting character on the show is Selena. She barely got any airtime but had one of my favorite The Client List quotes:
Is it so hard to believe that I buy into the fairy tale? That I would want a best friend, a partner to fall in love with and grow old with? | permalink
She went on to say she got it that it was unrealistic to imagine it would happen to someone in her line of work, but she wasn't ready to give up the dream. On the other hand, Riley has her head so far up her ass she couldn't find reality if it whacked her up side the head. 
What happens during the hour these days is essentially secondary to the wait for the truth to come out. The more Riley ignores the fact that it's hanging out there, the more it takes away from the entertainment value of The Client List. She needs to face up to reality like she wanted Kyle to do. It's time.
Carissa Pavlica is the managing editor and a staff writer and critic for TV Fanatic. She's a member of the Critic's Choice Association, enjoys mentoring writers, conversing with cats, and passionately discussing the nuances of television and film with anyone who will listen. Follow her on X and email her here at TV Fanatic.