We've gotten used to ABC Family pushing the boundaries with its edgy programming, from Pretty Little Liars to this summer's Twisted to The Secret Life Of The American Teenager.
But taking two lesbian moms and making them the center of the family drama? Is America ready for such a series?
The short answer is YES because The Fosters reflects a modern family that is not as unique as you might think. The one hour drama - created by Peter Paige and Bradley Bredeweg and produced by none other than Jennifer Lopez - is also solid in everything, from its cast to its storytelling.
But to make sure you've gotten the point, let me give you five reasons why you should check out tonight's premiere of The Fosters on ABC Family.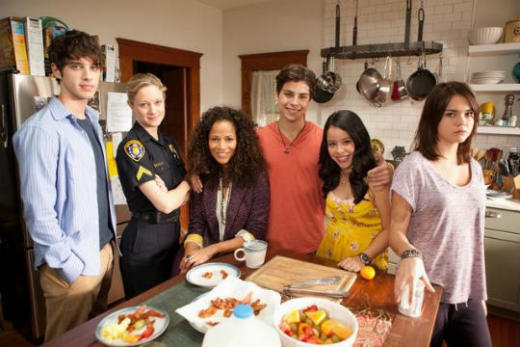 Issues, Yes. Heavy handed, No. Stef (Teri Polo) is a cop while Lena (Sherri Saum) is a school principal - and while they are in a same-sex relationship and raising a group of teenagers (biological, adopted and fostered), the messages that come with each episode are subtle and nuanced in a smart, adult, ground-in-reality way. Thumbs up!
Represent! Between the adults and the kids, this is a show everyone can watch no matter what age. Stef and Lena will be going through their own relationship and parenting issues while the older kids (played by David Lambert and Maia Mitchell) and the younger teens (Jake T. Austin and Cierra Ramirez) are all facing obstacles from breaking the law and lies to their parents and each other. DRAMA! 
Jenny From The Block! True, J Lo is working behind the scenes on this one as Executive Producer, but like co-creator Peter Paige (who you'll remember for his role as Emmett on Queer As Folk), we can only hope that we'll see both of them step in front of the camera in future episodes.
Love, Love, Love This may be a multi-racial cast featuring gay parents, but the bottom line of the show is that a family is all about love and you'll see that in every frame of the series. In fact, Stef's previous husband (Danny Nucci) is still in the picture both at Stef's work and at home as he tries to keep a relationship alive with biological son. Brandon.
Troublemakers! The good news is that the teenagers aren't the smart aleck TV kids you sometimes see talking like 30-year olds. The sort-of bad news (at least for parents Stef and Lena) is that the kids do get in lots of trouble (one is stealing prescription drugs to get some much-needed cash) but the kind that parents and teens will all easily relate to. Also, great, compelling storytelling should spark conversations among parents watching with their kids.
Make sure to check out the premiere of The Fosters tonight on ABC Family at 9 and watch a preview now:
Jim Halterman is the West Coast Editor of TV Fanatic and the owner of JimHalterman.com. Follow him on Twitter.