It's been exactly nine months since the last time I was able to write about how great of a television show Wilfred is.
In my review of the Wilfred Season 2 finale, I called the show hilarious, heart-warming, depressing, and thought-provoking. Last summer the show took a leap in quality, elevating it to not only one of the best comedies on TV, but one of the best series period.  
After watching two episodes of Wilfred Season 3, that fact has not changed.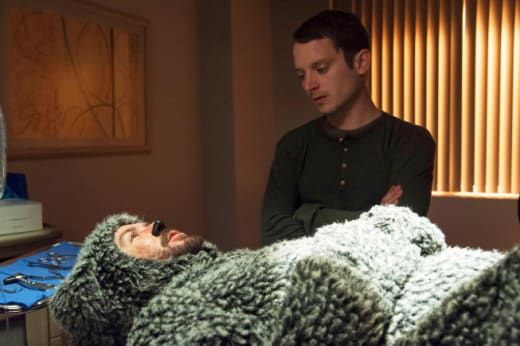 The hour of "Uncertainty" and "Comfort" worked as a tremendous reminder of why Wilfred is like nothing else on television.  It has the look and feel of a major motion picture, it racks the viewer's brain week after week with questions of what it's all about akin to Lost or Fringe, and it cracks you up throughout like some of the best comedies of all time.
"Uncertainty," in particular, did a fantastic job returning to the questions that arose in last year's finale, and eventually discarding them by accepting that "the answers will come in good time."
They will, and according to Jim Halterman's interview with Jason Gann here at TV Fanatic, that time may be at the start of next season.  The fact of the matter is that this isn't a serious drama.  I hope there aren't crazed fans out there begging for answers to what Wilfred really is.  However, the writers playing on that notion by having Ryan and Wilfy argue about whether the latter is imagined because of the former's lunacy, or if Wilfred is simply a magical being, was brilliant.
When Wilfred asks Ryan, "You think I'm only in your head?" it's like he was smirking at the audience.  The dog could be in Ryan's head. Heck, he could be an immortal magical being.  The great part about Wilfred is that no matter what the answers are, it's going to be a hilarious ride.
Between his memories of Anne Frank and Vincent van Gogh, his interactions with Stinky, and the simplicity of the ending in which Wilfred lights the lamp shade on fire because he thought that's what they were doing, "Uncertainty" was a welcomed return for this strange FX comedy.
After all of the unanswered questions were purged out in the first half hour, "Comfort" took a step back toward the norm.  It played out as a great one-off piece about religion, grief, and a dog's hatred of mailmen.
Zachary Knighton, fresh off a brilliant third and presumably final season of Happy Endings, gave a wonderful performance as Bill the mailman.  As a card carrying member of the Dave Rose fan club, Knighton's appearance was a welcomed surprise.
Whether through jubilation (the craziness of that undeliverable letter), or sadness (falling apart once finally talking about his boy Barry getting ripped apart by a dog), Knighton was game for anything.
It was and always has been, though, Gann, who was responsible for a majority of the laughs.  His ability to morph Wilfred into anything and everything is reason number one why this show works week after week.
This time around it was the realization that friends and relatives don't come back after actually dying that turned Wilfy into an uber-religious crazy person.
Between wearing underwear and telling Bear to cover up, imagining criminals as Jesus and God, and explaining to the sinning mail men and women that they had done wrong through screaming and fireworks, "saved" Wilfred was an absolute delight.
Check out some of our favorite quotes from the hour below, and then hit our Wilfred quotes section for the best lines from the entire series.  
Wilfred: Maybe I'm magical. Maybe you're crazy. The answers will come in good time.
Wilfred: What happens if my old owner wants me back? I'd want me back. I mean, look at this shit.
Ryan: So, who won the rape fight?
Wilfred: Just drive, please.
Wilfred: Holy shit. Marley and Me is a really sad movie. God, why was I laughing the whole time?
Wilfred: It was Jesus!
Ryan: And Jesus stole my radio?
Wilfred: The Lord works in mysterious ways.
Wilfred: When one walks with the Lord, Ryan, one's tail is always wagging.
Wilfred: It was God, Ryan.  And as God was carrying your flat screen tv out the back door, he looked at me as if to say, "Go my son. Smite these sinners. Wipe this present day Sodom and Gomorrah off the face of the earth!"
I thought the hour was a great return for Wilfred, which remains one of the best comedies on television.  What did you think of "Uncertainty" and "Comfort?"  What were your favorite moments?  What was the best line of the hour?  And what did you think of that fat, ugly piece of sh*t Stinky?
Dan Forcella is a TV Fanatic Staff Writer. Follow him on Twitter.