Covert Affairs Confidential: Hill Harper on Season 4, Shady New Character
Chandel Charles at .
Art addict and internal antagonist.
These are just two phrases to describe Hill Harper and the character this CSI: NY alum will be portraying on Covert Affairs Season 4 this summer.
When we left Annie, Auggie and the rest of the crew at the end of Covert Affairs Season 3, the former agreed to ally herself with Henry Wilcox. In the July 16 premiere, that journey will take her to South America, where she encounters Harper's Calder Michaels, a CIA bureau chief operating out of Columbia.
On my recent set visit to Toronto, Harper outlined Calder as an ambitious "internal antagonist" with his own view of how the CIA should be run, someone with dreams of making his way to Washington, D.C.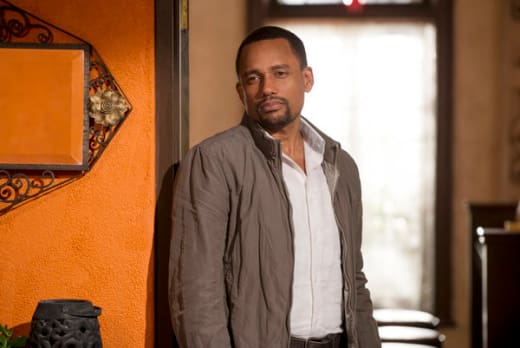 "After being on a series for nine years, I wanted to make sure the next thing I did was the right thing," Harper said of his decision to join the series, adding that he wanted to make the leap from network to cable.
In the season premiere he "got to curse, I got to shoot….you know it was really good."
The question fans will be posed with when assessing Calder's character is if "he is someone who is just really damn good [at his job], very committed and wants to the right thing and is really great at that... or is he somebody that has benefited from shortcuts because he's willing to do things that other people aren't willing to do and maybe has an agenda?"
Harper describes Piper Perabo as "charming and wonderful" and says she "makes the show work. The reason why is because you buy that she can get information out of people... because she is so charming... in real life."
When talking about his time in Colombia with Manolo Cardona - another new addition to the Covert Affairs cast and a wildly popular Colombian actor - Harper said  "the man could be President…..He knows so many people everywhere."
When Hill isn't playing this dynamic new addition to the cast of Covert Affairs, he's a self-described "art addict" who enjoys viewing pieces and has dreams of perhaps one day constructing his own art installation to be placed on view for the public.
Having screened the season premiere, I can certainly say operatives everywhere are in for a real treat when they tune in on July 16. It is here that you can see what will no doubt be one of Harper's most artful characters in Calder Michaels.
Stay tuned to TV Fanatic for more Covert Affairs scoop from my set visit to Toronto and Hill Harper. And come back all season long for in-depth analysis of this USA Network summer hit series.
C. Charles is a TV Fanatic Staff Writer. Follow her on Twitter.