Prior to last week's Covert Affairs Season 4 premiere, we introduced fans to Hill Harper and the role he would play on this USA Network hit all summer long.
Now it's time to meet the other man whose character will cause quite a stir over the coming weeks, Manolo Cardona.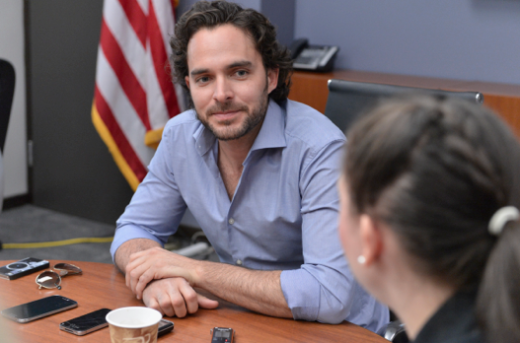 Aside from being extremely humble and exceedingly handsome, Cardona is also extremely passionate about the people of Columbia, where the show's premiere was shot and where Manolo is a larger-than-life star.
The actor and Piper Perabo even arranged for the Medellin-based opener to be screened for the people of that city in a special event via the Wandering Cinema Foundation.
As for the character of Teo Braga.
"He's a tough guy," Manolo said on the Toronto set, "He's lived a tough life. His mother passed away when he was very young... and he lives without the figure of a father... so he's a lonely guy... he's very passive aggressive inside, you know? He's a very, very good character. I love to play Teo. We are gonna see a lot of things going on from his point of view in the-in the show this season.  It's great." 
And there's certainly a lot going on for Teo from the instant he appeared on screen.
We now know he's Arthur's son, and if Annie's mention of her affiliation with him is any indication, there's far more to that relationship than meets the eye.
"That relationship [between Arthur and Teo] is gonna be trouble for them," Cardona teased. "There's gonna be a lot of things there that we're gonna see from the past and we're gonna get to see a little bit of the relationship.  But let's [just] say it's complicated."
Stay tuned to TV Fanatic for more declassified intel on the upcoming season and don't forget to return each week for a detailed rundown of each new installment.
C. Charles is a TV Fanatic Staff Writer. Follow her on Twitter.