Covert Affairs Q&A: Peter Gallagher on 150 Shades of Gray, Arthur as a Father and Sanctioned Threats

Chandel Charles at . Comments
He's stepped down as the head of DCS. He has a pregnant wife. And also a no-longer-so-secret son in Columbia.
Yes, the life of Arthur Campbell has been turned upside down on Covert Affairs Season 4.
Luckily for us, Peter Gallagher sat down with us during our Toronto set visit to delve into his complicated character, going on in detail about Arthur's life after the CIA and what else is in store this summer.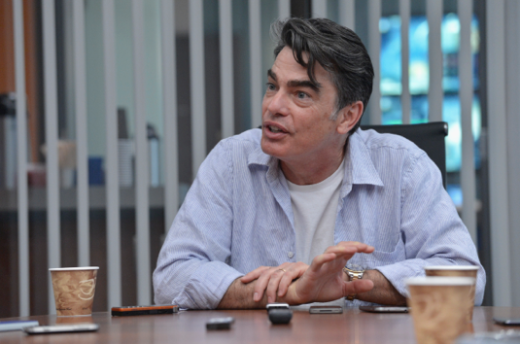 Of the structure and content of the season - which flashes 10 weeks forward before pulling us back to the present - Gallagher said:
"[There's a] slightly different construction and architecture, which is less episode-based and more essentially character and action-based, so that the characters and the action live with [this storyline] for more than one episode and, as such, you can discover more dimension and aspects of the characters and details of the of the missions that would not have been possible if we just had 43 minutes to do it."
As for the clearly darker tone the series has taken on?
"I think that it's great... I see it as kind of willing to admit to the jeopardy involved and to the complexity involved and to the fact that there are 150 shades of gray."
Yet even with the darker tone and Arthur's shocking resignation, Gallagher's character still has something happy to look forward to: becoming a Dad. However, Gallagher would argue that this role isn't new to Arthur.
"I think, metaphorically, he's a father. He's a father figure with operatives. I think he has to be... anybody in command position and also having come from the military understands the importance of leadership and understands how people are under pressure."
In a way, fatherhood and family is at the heart of what Arthur and company are doing at the CIA, as Gallagher explained: "The toughest soldiers coming back from Afghanistan and their little girls run across the basketball court to see them when they come home and your heart just breaks wide open because that's what they're fighting for. That's what Arthur's fighting for. That's what they're all fighting: the freedom to have the life that they value continue for others."
And that fight has only become more complicated with Henry Wilcox pulling the strings. A big story arc has been set in motion by Wilcox, which Gallagher has referred to as a "sanctioned threat."
This threat has Annie and Auggie square in its sights. So, what does this metaphorical father think about the relationship between these two?
"The fact of the matter is [the season] is not really going to be about Arthur's experience only as much as it contributes to Annie and Auggie's experience... They're attempting a difficult thing - having a relationship which is made more difficult by being in the CIA. But by the same token, who wants to be in any kind of line of work and be completely alone all the time if you don't have to be? 
"So if your option is to be with somebody who keeps secrets or does what you do and it can be a little twisty. But sometimes, you know, it's better to feel a little twisty and not be totally alone than just twisty and out there on your own twisting in the wind."
Teo will also be in danger as episodes progress, while Annie will return to Columbia in search of Arthur's child. Will father and son reunite?
"I do have-have at least one scene with [Manolo Cardona] we know - maybe we have a chance to sketch in a little bit of his past."
As always, TV Fanatic is your destination for more declassified intel from our Covert Affairs set visit, as well as for weekly analysis of each new installment all season long!
C. Charles is a TV Fanatic Staff Writer. Follow her on Twitter.