Another week, another solid Devious Maids.
What, exactly, went down on "Walking the Dog?" Well, Zoila's job was jeopardized when Genevieve ran into financial troubles. And with Zoila's urging, Genevieve went to her ex-husband for help.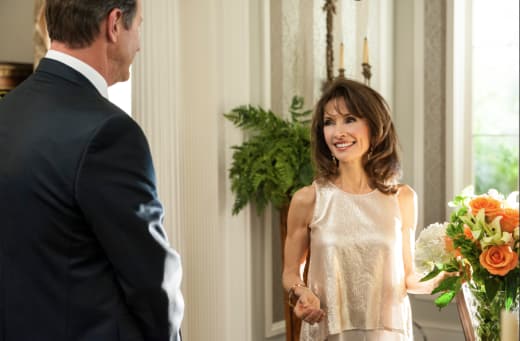 Unfortunately, she had to exchange sex for watercolors. Luckily, her new plan for finding husband number-seven seems a bit more promising.
By the way, I have really grown to appreciate both Genevieve and Zoila's friendship.
Last week, Eddie remembered Flora once talking about a DVD she was using to blackmail someone. This sent Marisol snooping around even more at the Powells.
She ended up finding a DVD of the Stappord's and immediately went straight to both Michael and Taylor. After one heck of a fight with Michael beating the crap out of Adrian, the Stappord's got their DVDs back.
In Adrian's secret and also totally disgusting room, Marisol discovered Flora's numerous DVDs. However, Marisol was fired before she could grab one and will need to find a way back to help out her son.
Meanwhile, Sam's dating made Carmen jealous. Like always, Carmen's storylines always have me laughing. Her tactic to get rid of Sam's new gal pal was hilarious and kind of cruel. Take it from someone who knows that allergies truly do suck and are unbearable at times.
Elsewhere, Spence and Rosie took their relationship to the next level. With things heating up, Spence ended up in the hospital with a heart attack. This caused Peri to realize that she still loved Spence and was willing to go to therapy.
What will this mean for Spence and Rosie?
Other Thoughts
Every week, Adrian becomes even more gross to me. I hope that Michael finds out that Adrian lied to him about the Flora DVD and teaches him a lesson with his fist once again. Taylor is going to be devastated when she finds out.
I'm starting to wonder when someone from Marisol's old life will bump into her and recognize her. How will she be able to keep her true identity a secret?
Be sure to check out our Devious Maids quotes section.
Overall, this was another strong installment. I can't wait to find out what Marisol's next move is.