Inside a packed, appreciate Ballroom 20 last night, Dexter said farewell to Comic-Con.
It was an emotional panel discussion highlighted by a group consisting of the show's top producers, main talent... and a few surprising, returning favorites.
Indeed, Julie Benz, Erik King (Doakes) and Lauren Velez all showed up for the event, while a certain beloved ex-serial killer also stopped by.
"Hello... Dexter Morgan fans," John Lithgow said video video. "I wish I could be with you all today, but as you know... I'm dead."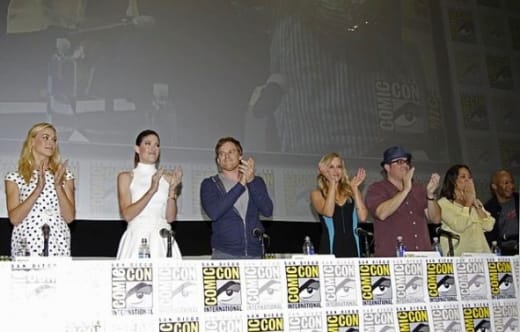 Among other highlights of an especially entertaining and endearing Q&A:
Dexter Season 8 wrapped production last week and Michael C. Hall said it has only sort of hit him: "Our conscious minds are aware that it's over," but his body will be curious why he isn't still doing the show again: "I would say five or six months now there'll be some wave of something that we'll all experience."
Benz said it was an honor to work for years on the series and "it's ending on a high note."
Aimee Garcia drew some whistles when she laughed and said she's "honored to be able to explore Jamie's various naked sides."
Desmond Harrington admitted he needed to learn how to match Hall's work ethic, choking up while doing so. He then earned one of the night's biggest laughs with: "Honestly, did you people think I was gonna live for more than a year? I'm STILL HERE." 
Velez on her final day of shooting: "I couldn't wait to do it. And I just kept walking around. I wanted to stay in The Zone. It was hard knowing it was going to be the last one, but it wasn't hard doing the work." She knew since Episode 10 of Season 7 that LaGuerta would be killed of.
Yvonne Strahovski will be back as Hannah. But for love or revenge? The actress played coy.
"Dr. Vogel is someone who really reframes the whole origin story for Dexter," Hall said of Charlotte Rampling's character. "She's an icon of world cinema and it's nice as an actor if your assignment is to be mesmerized by someone to be standing across from someone who is so inherently mesmerizing," he explains.
Added producer Sarah Colleton of the major guest star: "She was our first choice and she said yes."
 "The most authentic thing about the show is our relationship with you," Jennifer Carpenter told the audience, holding back tears. "It can't be a wrap til we're all here together."
And the final word went to Hall: "Just as you all waited in line and are here for us, we have been here for you and we are here because of you and we all thank you so much."
Matt Richenthal is the Editor in Chief of TV Fanatic. Follow him on Twitter and on Google+.