So... has Debra Morgan finally hit rock bottom?
On an episode titled "What's Eating Dexter Morgan?," that's the real question viewers are now asking themselves, as concerns over Deb are at an all-time high for this confused serial killer.
She's drinking, she's driving, she's wanting to confess her role in LaGuerta's murder and, as a result, her brother's role in an endless stream of other murders. Where will it end for Deb? How low can she call? And perhaps most pressing of all at the moment:
What are Dr. Vogel's intentions with her and Dexter?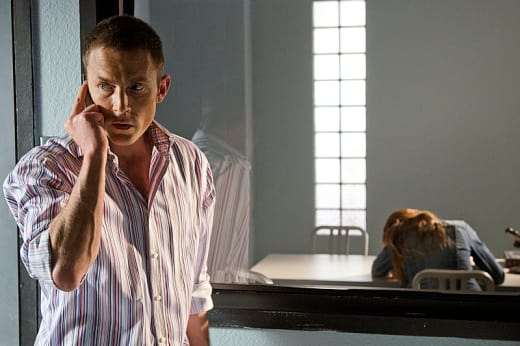 The mysterious Psychopath Whisperer now has Deb's confession. She's also been put in charge of righting this sinking, guilt-ridden ship and she's made it clear that she wants to do it all on her own.
That's a lot of trust for Dexter to put in someone so controlling, someone who is encouraging him to be an unfeeling monster. She tells him that his love for Deb is selfish, which stands in stark contrast to the truly selfless love Deb has exhibited in return. Heck, she went against all she stands for and took a life just to protect Dexter.
What has Dexter ever truly done for Deb that hasn't been out of self-interest? Out of him wanting to feel normal and loved? It's an interesting dichotomy and debate.
And these were terrific, riveting scenes, with Jennifer Carpenter once again pouring all she has into Deb's collapse. It was impossible not to be teetering on the edge of one's seat as Deb entered the police station and fell apart, wanting to confess it all.
So three episodes into Dexter Season 8 and the two women in Dexter's life have now collided; one makes him question everything he is, the other is pushing him to be even more.
And then The Brain Surgeon is out there somewhere, taunting Vogel and Dexter with a pair of His/Her boxes. Is there a chance Vogel is working with him? To what end? At least Dexter got in his first kill of the season, unleashing the desire that has landed him and Deb here in the first place, while also leading Vogel to believe she can manipulate killers in unique, unorthodox ways.
Where do you stand on Dr. Evelyn Vogel? Do you trust her?
Matt Richenthal is the Editor in Chief of TV Fanatic. Follow him on Twitter and on Google+.