Homeland Season 3 Scoop: Howard Gordon on "Gravitational Pull" of Carrie and Brody
Jim Halterman at . Comments
The Television Critics Association Summer Press Tour kicked off yesterday with a gathering that celebrated Turner's 25th Anniversary at the Beverly Hilton Hotel. It features stars from popular shows such as Rizzoli & Isles, Franklin & Bash, Falling Skies and Dallas.
Also in attendance was Emmy winning writer/executive producer Howard Gordon, who talked to me about Showtime's Homeland as well as his new TNT project, Legends, which will star Game of Thrones alum Sean Bean. Scroll down for some exclusive scoop...
-------------------------------------------
On Homeland Season 3: "It's as close this next year to a [spy novelist John] le Carré novel as we've gotten. I think it's really smart. Alex [Gansa] and the team have smartly taken the consequences of last year and really continued to tell the story in a way that really honors everything that happened and the people to whom it happened. But it has the courage to take its time and to really live in the psychological space that the show lives in. There's a mesmerizing quality to it that hopefully that I think I've seen a bunch of episodes so it's exciting."
On how long Carrie and Brody will be apart: "It's a question in a way even though their lives are adjacent they're very connected still. You feel the gravitational pull of the relationship even though they may not be in the same physical space."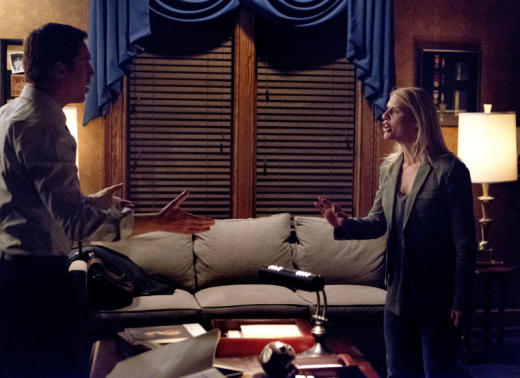 Did the success of Homeland change his already successful TV career? "I have to say after 24 [which Gordon Exec Produced], I felt like I was playing with the house's money. For me, I really thought it could never get as good as this and to tap into a show that feels like a zeitgeist show that people are talking about, that's part of the national conversation, is like a once in a lifetime thing. To have experienced that twice in a way, I have to admit, I have to pinch myself sometimes."
On the long road to Legends, which was originally set up – twice, he said – at NBC. "We went originally with Brendan Frasier attached. This thing has really been a process and in the end we wound up with Sean Bean and with a writing staff that I'm really excited about."
What is Legends about? "It's about a guy who's a deep cover operative for a branch of the FBI which is long-term, deep cover operative. Sean Bean is this guy who is amazing at being other people, not so good about being Martin Odum, himself. Lousy husband, busted marriage, a kid he's trying to get close to…it turns out he may not even be Martin Odum. So the existential mystery of who he is is something that runs through the show…and we have an astounding cast. We have Ali Larter, Sean Bean and Tina Majorino, who is awesome. She's gold. She's so gold. I think she's going to be a superstar."
Michael Wright, President, Head of Programming TNT, TBS and TCM, then chimed in on why he's excited to be working with Gordon on Legends: "This poor man has heard me go on and on about 24 and Homeland to the point he wants to tell me to shut up," said Wright of Gordon. 
In terms of how Legends fits with TNT, Wright explained: "We know our brand, we know why people are watching and the key is to find people whose work you really think you know, whose voice you know and you can say to them, 'if you'd like to make this show for us, we so trust your voice that if you apply that voice to this show, it's likely to work.' And that's how I feel about Howard and that's how I feel about this show."
Wright also said that the "momentum of the network" with hits like Falling Skies and hopefuls like the upcoming Frank Darabont series Lost Angels (starring Walking Dead alum Jon Bernthal) is exciting for him.
Homeland premieres Season 3 on September 29 on Showtime. Legends airs in 2014 on TNT.
Jim Halterman is the West Coast Editor of TV Fanatic and the owner of JimHalterman.com. Follow him on Twitter.